What Goes Up
(2009)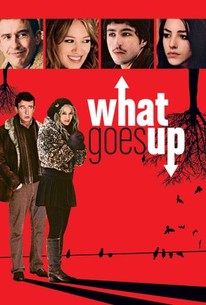 TOMATOMETER
AUDIENCE SCORE
Critic Consensus: What Goes Up squanders the charisma of Steve Coogan with a lazy screenplay, contrived plotting, and overall poor production.
Movie Info
A period comedy set in the 1980s, Jonathan Glatzer's What Goes Up tells the poignant story of a morally challenged New York reporter who connects with a group of high school outcasts while in New Hampshire covering the story of Christa McAuliffe, the first civilian astronaut. Arriving in McAullife's hometown, reporter Campbell Babbitt (Steve Coogan) is distraught to learn that an old college friend has recently committed suicide. Meanwhile, as Babbitt attempts to craft an unsung hero story about his old friend by gravitating toward the teacher's misfit students, local teacher (Molly Shannon) scrambles to cover up a looming scandal. When Babbitt discovers that the motley crew of teens is comprised of a self-absorbed seductress (Hilary Duff), a timid voyeur (Josh Peck), and a manipulative pregnant teen (Olivia Thirlby), he becomes obsessed with our need to create heroes where none exist. Over time, the roles are reversed and Babbitt learns that the traits he is currently projecting onto his fallen friend's students may in fact be traits possessed by he and other adults. Increasingly at ease around the students as he relates to them on their own terms, Babbitt gradually begins to form a fixation on the very student rumored to have had an affair with his deceased friend.
News & Interviews for What Goes Up
Critic Reviews for What Goes Up
Audience Reviews for What Goes Up
"What Goes Up" tries really hard to find its point, sometimes a little too hard. That's not to say that there isn't any substance here--there was definitely something--but the film never digs deeper. Steve Coogan gives a good performance as the lead character (never heard of him before), and Hilary Duff does okay as Lucy albeit a few awkwardly uttered F bombs. Josh Peck is just creepy, and Olivia Thirlby just looks sullen or screams her head off. "What Goes Up" feels really somber and melancholy, but we never see into the drama. That's the problem. There's no real character development and not much story telling going on. It just skims the murky surface of an implied very deep pool of mystery. Which this film should have unraveled, but alas, it failed. Not recommended.
Chris Whetsell
½
I like movies that make you think. And although it was an indie film, the movie did manage to portray an effective message and an impacting plot.
David Gonzalez
It is Saturday morning, February 27, 2010. It is a quarter past noon and instead of watching the men's bronze medal game, Switzerland V Sweden, I am watching the most ridiculous and most boring movie I have ever had the displeasure to watch. I don't even want to say the name of the stupid movie, but I guess I have to otherwise you might accidentally watch it and then I would just feel horrible about that because my job is to warn you against these hideous movies. What I'll do is, refer to this heaping pile of dog snot with some sort of creative expletives, so when you see them you know I'm talking about this disgusting pant load. Blech, I shiver just thinking about it! This vile extrusion of soft dung is about some jerk journalist who fell in love with one of his subjects. One day he covered this story about a poor woman whose child had been shot and died during a random shooting. He thought she was so brave for the way she was handling this terrible tragedy that he fell for her. He wrote an article about her and began dating her shortly after. However, one day he came calling, he entered her apartment and noticed a strong smell of natural gas. The stove had been left on and next to the stove was the dead body of the "brave" girl he had fallen in love with. Very sad, very tragic and the start of a really good movie, normally, but no, they manage to turn this into refuse, a big dumpster full of 3 month old refuse! Like all good journalists instead of reporting that she had died, he decided to write daily reports about how brave and strong this woman was and I'm thinking, "Where is the body in all this?" I am sure after a few days this chick is probably as stinky as this movie! But NOOO! He went about this for days and then his boss started to get on his case because he was spending way too much time on this story. She wanted him to move on to something else, something fresh. The editor sent him to Florida to cover the story of the teacher who was about to go into space. Oh, that's right, this movie took place in the mid 80's, a week before the Challenger was about to make its final...well, you know! When he got down there, instead of checking into a hotel, he decided to visit an old friend from college who he hadn't seen in years and see if he could stay with him so that he could save a couple of bucks. His friend turned out to be a teacher who was really good at relating with outcasts. All of the losers, nerds, geeks, dweebs, sluts, and dickheads all adored this man. He was a real influence on them. He was so interested in them that the school board thought he may have been having an inappropriate affair with some of the girls he was helping. However, we don't know that until much later, what we do know is that the body of this man was found just outside of his apartment building where it was thought he had jumped from the roof to end his own life, probably because of the accusations or maybe he just fell. Who knows, they never freaking making it clear! As if that is not enough to turn you off, here is where it gets really bad! The journalist saw a story with the kids. He wanted to write about how lost these students were without the only person in the world that understood them. He used the fact that he knew the teacher to gain the students' confidence so that he could get close to them and get more information about them. He deceived them with "personal" stories about him and his friend, when in reality he hadn't seen him in over ten years. And after all of that, they did nothing with it. They didn't follow up, commented or explained anything of his behavior. I was as if they did that solely to fill up space in the movie. I feel as though I wasted two hours of my life for nothing. It is pretty difficult to bore me. I usually find some angle that I can relate to, but I honestly don't even know how the editors or producers found any part of this story interesting. As I promised, I must tell you the name of this piece of shit movie. However, I don't want to because I know if I do you might watch it just to see if I was right or not. Well, if you do that it is your own fault, don't come crying to me if you do. I am going to type this title and then I'm going to go take a long shower with a nice bar of extra gritty Lava soap and a one to one solution of bleach. I'm shivering just thinking about it. If for some reason you have the movie What Goes Up in your Netflix queue, please remove it immediately. Don't say I didn't warn you!
Victor Rodriguez
What Goes Up Quotes
There are no approved quotes yet for this movie.
Discussion Forum
Discuss What Goes Up on our Movie forum!