Muk gong (Battle of Wits)
(2006)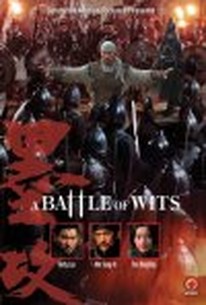 AUDIENCE SCORE
Critic Consensus: No consensus yet.
Muk gong (Battle of Wits) Photos
Movie Info
A lone hero comes to the rescue of a village about to be overrun by a marauding army in this historical epic from Hong Kong. In the year 370 B.C., China has been torn apart by a handful of warring factions, and the Zhao State has set out on a long march to invade and conquer the Yan State. En route, the ten thousand-strong Zhao army will pass through the town of Liang City, home to four thousand souls. Led by Lord Liang (Wang Zhiwen), an ineffectual and alcoholic leader, the people of Liang City fear the worse, and beg the warriors of the Mozi clan to come to their aid in protecting the city. As Zhao general Xiang Yanzhong (Ahn Sung-ki) and his men loom on the horizon, a single Mozi fighter, Ge Li (Andy Lau), arrives in Liang City; while the townspeople are certain the battle is already lost, Li is a brilliant strategist, and convinces the handful of Liang soldiers that they can indeed fend off the Zhao invaders. With the help of Liang cavalry woman Yi Yue (Fan Bingbing) and Zi Tuan (Nicky Wu), a master of the bow and arrow, Li is able to fight the Zhao soldiers to a standstill; however, Lord Liang is humiliated by the success of the interloper, and his right-hand man (Wu Ma) plants seeds of doubt in the villagers' minds about their new champion. ~ Mark Deming, Rovi
Critic Reviews for Muk gong (Battle of Wits)
All Critics (1) | Fresh (1) | Rotten (0)
Cheung's film concentrates not so much on fighting itself as the question of what fighting is for, and whether it can ever be justified.
Audience Reviews for Muk gong (Battle of Wits)
½
When a city state comes under siege by a conquering army commanded by a celebrated strategist, they meet their match in the form of a pacifist warrior dispatched by a friendly nation to aid their allies. With Andy Lau as its star and Jacob Cheung, the action director of Hero, at the helm you expect something pretty spectacular from Battle Of Wits, but despite its epic scale and inventive battle sequences it seems more interested in lecturing the viewer on the dubious morality of warfare than anything else. This means that Cheung spends at least as much time and energy on pseudo-intellectual and rather naive waffle as he does playing to his strengths so that even when visual spectacle and action comes to the fore it's not long before it's interrupted for yet another ham-fisted speech to remind us that "killing is bad". It does have its moments but Cheung confuses sentimentality and manipulation for drama and the characters never feel like real people; just ciphers to get his rather clumsy point across. Some may find the battle sequences worth the rather long-winded effort, but Red Cliff did something very similar and did it a lot better.
½
Enjoyed the many fighting maneuvers!
Nikki Meroney
Super Reviewer
Better than what I expected; apart from the the understandably not-up-to-Hollywood-blockbusters CGI and the, in my opinion, unnecessary love plot, I felt the story was very solid and stayed true to its central theme.
Sheldon Chau
Super Reviewer
Muk gong (Battle of Wits) Quotes
There are no approved quotes yet for this movie.