2020 Texas Gladiators
(1982)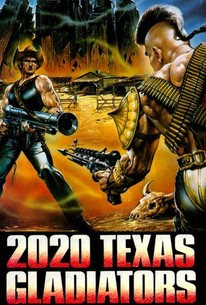 AUDIENCE SCORE
Critic Consensus: No consensus yet.
2020 Texas Gladiators Videos
2020 Texas Gladiators Photos
Movie Info
This Italian futuristic sci-fi action flick is set in the year 2020 and beyond. Crazed outlaws invade a mission in Texas, a hero comes along, saves a woman, is rewarded with her love, and lives happily ever after, at least for a few years. Then all hell breaks loose all over again.
Rating:
R (adult situations/language, violence)
Genre:
, ,
Directed By:
Written By:
In Theaters:
Runtime:
Studio:
Media Home Entertainment
Critic Reviews for 2020 Texas Gladiators
There are no critic reviews yet for 2020 Texas Gladiators. Keep checking Rotten Tomatoes for updates!
Audience Reviews for 2020 Texas Gladiators
½
I've always thought of the post-apocalypse film as an '80s revival of the western. They feature essentually the same plots and same story arcs--the only major difference is that post-apocalypse films have slightly more shiny objects. Never have I been more proven right by this assumption than by [i]2020 Texas Gladiators[/i], in which the team of good-guy rebels, their makeshift town under siege, goes to get help... from a tribe of Indians. Yes, Indians. And I can say "Indians," not "Native Americans," because this is an Italian film, so they're not American at all, and they're clearly Indians of spaghetti western films, not Native Americans who just want to open casinos. It's almost as though they had a script for a western and started changing things to make it a post-apocalypse film, then got bored and decided to just leave it. Indians. Of the future. The end result is that the climax, with the Indians riding on horseback through the post-apoc staples of empty warehouses and deserted buildings, makes the whole thing feel like the ending to Blazing Saddles, topping off a compltely absurd, confusing, ridiculously entertaining piece of pulp nonsense with an absurd, confusing, ridiculously entertaining finale. It's a pretty amazing feat, as the film manages to get progressively goofier with each passing minute. We open with our heroic team of five rescuing a young woman from a gang of sadistic bikers (in the future!). There's actually more people to rescue, but they get killed off, or, in the case of a nun, slice their own throat with a nearby piece of glass. It's over five minutes of pure, unbelievable violence into the film before the first line of dialogue, and a few more after that before the "good guys" finally take control. When one of the team decides to take his own chance with the surviving lady, the others outcast him, as the roving band of post-apocalyptic vigilantes have a strict moral code. Time passes, apparently, as in the next scene, one of the team has gotten married to the woman and they now have a young girl, and the outcast bad guy now leads an evil band of bikers himself. The four remaining, er, "Texas Gladiators," I guess, (though there's no mention of either Texas or gladiators) now live in a town with a water refinery that's supposed to bring civilization back, as they're forced to drink their own urine. They apparently haven't tried hanging out at that lush green forest right near them that seems to be thriving, but by this point, you can't really be expecting the film to make much sense. Anyway, an evil Nazi-like bald guy (Donald O'Brien, the former [i]Dr. Butcher, M.D.[/i]) orders the outcast's band of bikers to take over the town, which they do, raping the women and teenage boys, slaughtering tons of people and forcing the Gladiators into hiding after one of them is killed. They return to find the one guy's wife and child, playing russian roulette for her in a blatant Deer Hunter rip-off that manages to be stupidly entertaining anyway. After doing some time in the salt mines, two members (Italian sleazze regular Al Cliver and TV[i] Dr. Strange[/i] Peter Hooten) are rescued by the third, who is, of course, an Asian martial artist. They band together once more to take over the town again once and for all. While [i]2020 Texas Gladiators[/i] is blindingly stupid, it's never dull. Something it always happening or about to happen, and once the film starts, it rarely ever stops. The sole exceptions are the tedious walking scenes, common in director Joe d'Amatos fantasy pics (check out the [i]Ator[/i] series, from which you could form an entirely new film just from scenes where people wander though landscapes), which here at least serve as decent breaks to get up and grab another beer. There's none of that niggly character development or story arcs that action fans hate--this goes straight to the good stuff. It's also so unwieldy and badly put together that you're never quite sure where it's going, so I guess you could say it's "suspenseful," as long as you don't equate "suspenseful" with "well thought out moments of tension." The acting and dubbing are typical for Italian genre fare, so lines like "Rebuilding society after a nuclear holocaust--it's complicated!" don't seem out of place. [i] 2020 Texas Gladiators[/i] scrapes brilliance with its' nonstop assault of hastily-handled action, unbelievable "technology" (the enemy's big weapons are their shields, which have a big hole in the middle of them. For science!) and idiotic plot twists--you never know what you'll get next. Sure, it's drivel, but it's fast-paced, deliriously entertaining drivel, and that's pretty much the best you can expect from an early-'80s [i]Mad Max[/i] knock-off.
Paul Freitag