A State of Mind
(2005)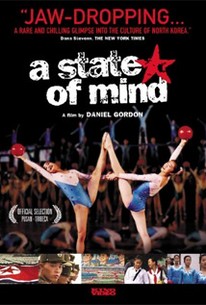 Movie Info
Two young gymnasts prepare for the Mass Games, one of North Korea's most important and elaborate events. Marked by its unprecedented access, this eye-opening film not only provides footage of the games themselves but it also shows the daily lives of people in one of the world's most closed societies.
Cast
Critic Reviews for A State of Mind
Audience Reviews for A State of Mind
[font=Century Gothic]"State of Mind" is a documentary filmed in 2003 by a BBC film crew that was allowed unprecedented access in North Korea to follow two teenage gymnasts, Park Hyon Sun and Kim Sung Yun, as they train for the Mass Games, "a social realist extravagansa" performed to celebrate various anniversaries in the nation. It turns out that people are pretty much the same wherever you go, just the circumstances and governments change. For example, North Korea's isolation allows it to control the information it hands out to the citizens. And the society is shaped around a very extreme cult of personality.[/font] [font=Century Gothic][/font] [font=Century Gothic]But the documentarians try too hard to make a political statement, and that especially shows in the heavy-handed narration.(Narration should only be used to impart information, not to do a play-by-play.) They needed to let the viewers come to their own conclusions.(Whatever you think of the politics, you have to admit Communists know how to put on a show. Whereas, anarchists usually field the better softball teams...) [/font]
A State of Mind Quotes
There are no approved quotes yet for this movie.