American Pimp
(2000)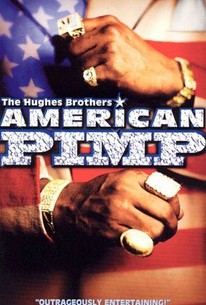 Movie Info
Albert and Allen Hughes, the writing and directing team of Menace II Society and Dead Presidents, turn their documentary eye to the world of street pimps in this 1999 Sundance Film Festival Documentary Competition entry. The black urban pimps interviewed here open up to reveal their world and their secrets to the camera in a film that is not about sex, but about power. We meet pimps named Filmore Slim, C-Note, K-Red, Gorgeous Dre, and Rosebudd as they discuss their business, including percentages, lifestyles, stealing "ho's," and the Player's Ball. These men exude charm and charisma, and boast rock-star status in their communities, with expensive clothes, cars, and bankrolls. The film works as an allegory to the film and music industries, where people are lured with glamour and money, only to be used as commodity and tossed out once they have passed their prime. The film also traces the history of the street pimp from the '20s to the present, with particular emphasis on the '70s pimp, whose lifestyle was exposed in the blaxploitation films of the '70s.
Critic Reviews for American Pimp
Audience Reviews for American Pimp
½
This is a really funny and informative sort of documentary.
Jennifer Xu
Super Reviewer
½
'American Pimp' is fascinating from start to finish. The Hughes brothers documentary is relatively non-judgmental, and lets the flamboyant and ultra-verbal pimps do the talking. And boy, can they talk! This lack of moralizing troubles some viewers but I found it refreshing not to be manipulated and told what to think about a subject for once. Audiences will be divided in their reactions and opinions to these guys and I like it that way. Recommended viewing for anyone with an open mind and a sense of the absurd.
Cassandra Maples
Super Reviewer
American Pimp Quotes
There are no approved quotes yet for this movie.