American Teen
(2008)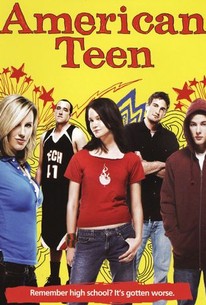 TOMATOMETER
AUDIENCE SCORE
Critic Consensus: American Teen skates some thin ice with its documentary ethics but, in the end, presents a charming and stylish (if packaged) tale.
Movie Info
"American Teen" follows the lives of five teenagers--a jock, a popular girl, a heartthrob, an artsy girl and a geek--in one small town in Indiana through their senior year of high school. We see the insecurities, the cliques, the jealousies, the first loves and heartbreaks, and the struggle to make profound decisions about the future. Filming daily for 10 months, filmmaker Nanette Burstein developed a deep understanding of her subjects. The result is a film that goes beyond the enduring stereotypes of high school to render complex young people trying to find their way into adulthood. With extraordinary intimacy and a great deal of humor, "American Teen" captures the pressures of growing up--pressures that come from one's peers, one's parents, and not least, oneself.
News & Interviews for American Teen
Critic Reviews for American Teen
Audience Reviews for American Teen
As I watched the documentary American Teen, my brain kept telling me that this was just another of those posed, fake, "reality" shows. How the heck did the camera get to be in the middle of all intimate moments? In particular there is a scene about 2/3 of the way through in which the camera follows Megan (a snotty female dog who I was really hoping would fail in her quest to go to Notre Dame to please her daddy) as she vandalizes another students' home. As the Vice Principal tells her; since she deemed it necessary to spray paint the word "fag" on the window, her actions could be construed as sexual harassment and worthy of a class C felony. Ok, if you buy that, then the film-maker could certainly be tried as a co-conspirator, having knowledge of her intent and not only doing nothing to stop her, but filming the entire escapade in lovely living color. But aside from that feeling that much of the events, while "real" were certainly manipulated, and filmed in such a way as to heighten any drama and get the directors' point across, there are certain universal truths here that, while not shocking - having seen this act before in any number of teen films - still maintains a certain earnestness, especially when viewed through the lens of "this is real". So you have kids behaving like kids, and yet every so often amongst all the confusion, one of the 5 main characters says something profound - giving me hope that perhaps we aren't facing the end of civilization, just a re-adjustment into the land of texting and social networks. The director, in spite of being a bit heavy handed and overusing the same shot sequence (look closely at the basketball scenes), does show a bit of inventiveness in the use of animated dream sequences - only one of which is really compelling; that of Hannah, the artist and pariah whose dream sequence includes watching her face in a mirror become demonic, flipping back and forth until the faces blur together and then elongate into a Munchian Scream. There are scenes where I was confused over who was doing or saying what about whom, but again, my brain gave these a pass, concluding that the director was trying to edit a narrative of "real" events. Still, I couldn't help but wonder at some of the directorial choices. For example, Hannah misses a couple of weeks of school after suffering a near breakdown after getting dumped by her BF. She is told that if she doesn't get her ass back into class and fly the straight and narrow from here till the end of school, that she'll be expelled. So what does the director choose to do? Go for the art shot, showing her finally going back to class late, and sheepishly walking back into class. Later she is shown walking down an empty corridor. The only way that corridor could be empty is when class has already started - so Hannah is once again on the wrong side of the rules - meaning that the director risks her expulsion simply to shoot this shot inferring that she is a loner. I was also curious about the tag ending that had a quote from Hannah saying that San Francisco was too expensive for her, so she moved to.... Wait for it.... New York - from what I've read the cost of living is equally high in both places. Further, I wondered how this poor girl from the wrong side of the tracks managed to get a scholarship to a prestigious NY art school after being underground in SF for a year - perhaps the film paid her way? Just saying. In all, an interesting study that says more in subtle sub text than it does in its grand statements.
paul sandberg
Super Reviewer
"Remember high school? It's gotten worse." A documentary on seniors at a high school in a small Indiana town and their various cliques.
REVIEW
Documentarian filmmaker Nanette Burstein's exploration into the 21st Century American teenager is often on the mark but feels very manipulative in examining 4 atypical US high school seniors a la John Hughes' The Breakfast Club: The Geek, The Jock, The Basket Case, The Princess and The Rebel as a template that has a few surprises in store for those who anticipate the expected usual trials and tribulations of youth: high expectations, stress to excel in curriculum and extracurricular activities to get into a decent college, social awkwardness, growing into one's own persona, and finally accepting the things the way they are, damn the expectations.
Lorenzo von Matterhorn
Super Reviewer
I really enjoyed this. I tend to like things that follow "real" people, although I do have to question how set up this one was. Anyhow, it was very entertaining and I even sat and watched all the extra features, which I almost never bother to do on a rental.
Nicki Marie
Super Reviewer
American Teen Quotes
There are no approved quotes yet for this movie.