The Architect
(2006)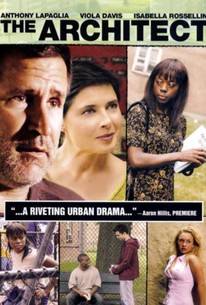 Movie Info
Leo Waters is an idealistic architect and patriarch of an affluent, suburban Chicago family. Tonya Neeley is a pragmatic activist who is trying to keep her family together while living in one of the city's most drug and crime-infested public housing projects. As part of her ongoing campaign to have the projects torn down and decent housing built in its place, Tonya decides that the one signature she needs more than any other on her petition is that of the projects' original architect, Leo Waters.
Rating:
R (for language and some sexual content)
Genre:
Directed By:
Written By:
In Theaters:
On DVD:
Runtime:
Studio:
News & Interviews for The Architect
Critic Reviews for The Architect
Audience Reviews for The Architect
The WORST movie I've ever seen! I could barely sit through it. The acting was awful and so was the story line. Do not waste 2 hours of your life watching this movie.. no matter how bored you are.
Kate Shevchik
½
this movie is hard to rate. its very story driven which is good, and the stories that are presented are very good. the telling of the stories however is not good at all. this film follows the unfortunate indi film trend of leaving a story incomplete at the end. the problem is that this film is only 1hr and 11 min. they could have used another 30 min to finish telling the stories. much of the diologue is unexplained and doesnt seem to fit the story and some of the actions of the characters have no context so they dont make sense. i give it a decent rating on potential, hayden is good in this flick and the movie could have been great with more time.
[font=Century Gothic]In "The Architect," a long time resident, Tonya Neely(Viola Davis), of the Eden Court housing projects on the south side of Chicago has come to the conclusion that the inadequately repaired, poorly built, gang infested buildings are beyond hope and wishes to see them torn down.(Her son commited suicide a few years back. One daughter, Cammie(Serena Reeder), lives elsewhere while attending high school. Another, Missy(Marsha Stephanie Blake) already has a baby of her own.) She even tries to get the original architect, Leo Waters(Anthony LaPaglia), to help but he declines, not seeing a problem...[/font] [font=Century Gothic]"The Architect" is a slight but intriguing movie about the difference between reform and revolution. In this case, it is the difference between continually repairing the projects or tearing them down and starting from scratch.(Tonya never does say what she wants to replace the projects with.) If I remember my urban history right, housing projects were built with the best of intentions but they also destroyed the cohesion of neighborhoods. Leo does not admit that there is a problem with the buildings he designed while not noticing his family falling apart around him.(Thus, saving the movie from the dreaded "rich white folks have problems, too" syndrome.) But we never get a true sense of what it is to live in these projects. [/font]
The Architect Quotes
There are no approved quotes yet for this movie.