The Atomic Cafe
(1982)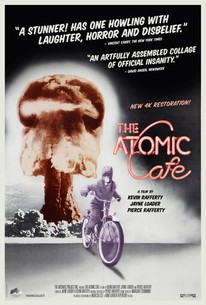 Movie Info
This film recounts a defining period of 20th century history and serves as a chilling and often hilarious reminder of cold-war era paranoia in the United States--artfully presented through a collage of newsreel footage, government archives, military training films, and fifties music.
Critic Reviews for The Atomic Cafe
Audience Reviews for The Atomic Cafe
½
This is easily the most bizarre documentary I've ever seen. Most documentaries use interviews, have a host who guides people through the film (example, Morgan Spurlock in "Super-Size Me"), and have some form a commentary with a narrator. "The Atomic Cafe" is very different. This film is made up entirely of newsreels and propaganda films to tell the story of the world after the atomic bomb and the paranoia of the Cold War. The only alterations the film makers have made is some editing and subtitles so we know who the people are. That's it. The rest is up to the viewer to gather for themselves. I know a lot about this period in history and some of the footage in this is almost as funny as it is disturbing. For example, a happy kids film with a cartoon turtle mascot who cheerfully reminds us "When you see the flash, remember, duck and cover, duck and cover, duck and cover!" If you want to kill an hour and a half, give this a shot. It can get a bit slow at times, but its definitely worth watching.
Jacob Ethington
Super Reviewer
great document of the paranoia of the nuclear age with some of the blackest humor possible. made entirely from archival footage of atomic blasts, scary news reports and pretty hilarious civil defense propaganda full of misinformation. there are some upsetting scenes of blast victims as well. this would make a great double bill with strangelove
Stella Dallas
Super Reviewer
The Atomic Cafe Quotes
There are no approved quotes yet for this movie.