August Rush
(2007)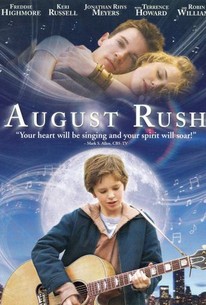 Movie Info
An infant secretly given away by Lyla's father has grown into an unusually gifted child who hears music all around him and can turn the rustling of wind through a wheat field into a beautiful symphony with himself at its center, the composer and conductor. He holds an unwavering belief that his parents are alive and want him as much as he wants them. Determined to search for them, he makes his way to New York City. There, lost and alone, he is beckoned by the guitar music of a street kid playing for change and follows him back to a makeshift shelter in the abandoned Fillmore East Theater, where dozens of children like him live under the protection of the enigmatic Wizard. He picks up a guitar for the first time and unleashes an impromptu performance in his own unique style. Wizard names him August Rush, introduces him to the soul-stirring power of music and begins to draw out his extraordinary talent. Wizard has big plans for the young prodigy but, for August, his music has a more important purpose. He believes that if his parents can hear his music, they will find him. Unbeknownst to August, they have already begun that journey.
News & Interviews for August Rush
Critic Reviews for August Rush
Audience Reviews for August Rush
Jameson Worley
Super Reviewer
A good hearted film with some great music, great performances, but a very terrible ending that almost ruined it for me.
Jim Careter
Super Reviewer
½
Now, okay. I understand that this is a film that loves music (and I can see that), but, one problem I have with some films is the crime they commit of taking a plot that has been used over and over again and just rehashes it without adding anything new. Sadly, for August Rush, this is the truth. The acting in this film is, actually wonderful. Freddie Highmore is wonderful as ever, but even his acting can not really save this film. The script is basically a modern telling of Oliver Twist, just added a love of music. Now, if the script only worked on the love of music and cut the rest of it out, then this film would have been better. But, it had to have a sappy love story thrown in. Now, the main reason, if any, to see this film would have to be the film's score. I mean, it is just wonderful to hear all the music in the film and it would have worked well if the film only dealt with Evan (Freddie Highmore) being a music prodigy. Now, the direction of this film is rather slow. I mean, it could have been much faster paced and it does drag for a while. Overall, I only recommend this film if you are into cliche films or just really good film scores.
Zach Brehany
Super Reviewer
August Rush Quotes
| | |
| --- | --- |
| Evan Taylor/August Rush: | I believe in music the way some people believe in fairytales. |
| | |
| --- | --- |
| Maxwell "Wizard" Wallace: | music is everywhere. |
| Maxwell "Wizard" Wallace: | Music is everywhere. |
| | |
| --- | --- |
| Louis Connelly: | How long you been playing? |
| Evan Taylor: | Six months. |
| Louis Connelly: | Six months? How'd you learn to play like that in six months? |
| Evan Taylor: | Julliard. |
| | |
| --- | --- |
| Evan Taylor: | Listen. Can you hear it? The music. I can hear it everywhere. In the wind... in the air... in the light. It's all around us. All you have to do is open yourself up. All you have to do... is listen. |
Discussion Forum
Discuss August Rush on our Movie forum!