Ayn Rand: A Sense of Life
(1998)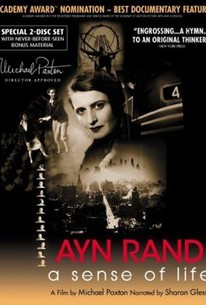 Ayn Rand: A Sense of Life Photos
Movie Info
Sharon Gless narrates this documentary about Russian-born American novelist Ayn Rand. Writer-director Michael Paxton examines her philosophy, her personal life, and her professional career. Rand's popular The Fountainhead (1943), supposedly based on Frank Lloyd Wright, was filmed in 1949, and an Oliver Stone remake has been announced. During the early '70s, Rand's novel Anthem (1936) was filmed, but since this feature-length adaptation was unauthorized, it has never been shown commercially.
Cast
Critic Reviews for Ayn Rand: A Sense of Life
All Critics (12) | Top Critics (4) | Fresh (6) | Rotten (6)
... when Ms. Rand, who died in 1982, is verbally sparring with the likes of Phil Donahue or Mike Wallace on old TV broadcasts, she comes alive.
January 7, 2003
offers an adoring look at this controversial philosopher and author.
Audience Reviews for Ayn Rand: A Sense of Life
The fascinating life of Ayn Rand from the beginning to the end. Ayn Rand- A Sense of Life explores the author of best sellers The Fountainhead and Atlas Shrugged's philosophy of living on Earth: Objectivism. The film had an excellent editing that combined photos, footage, cartoon animation and manuscripts of Rand in a logical and rational order. The film did not bore me for a single minute. As much as I want to say that the film was made objectively, I felt that it missed out some of the less glamorous aspects and some more autobiographical details. Regardless, it offers a good introduction for beginners of Objectivism.
Sylvester Kuo
Super Reviewer
The so-called driving impetus to modern Republican thought (if only it were true!), as well as famous novelist in her own right, is thumbnail biographied here. Interestingly taking an overview of her famous theory involving free thought and action (and her stand against communism) one is lead to certainly consider actually reading her works about uber-men and the women who love them.
Kevin M. Williams
Super Reviewer
Ayn Rand: A Sense of Life Quotes
There are no approved quotes yet for this movie.