Band of Angels
(1957)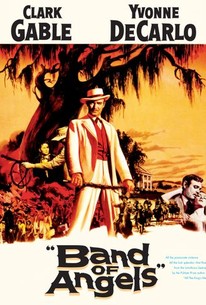 Movie Info
In this costume drama, a Southern gentleman strives to conceal his checkered past. He falls in love with a beautiful belle who has been cast out of her expensive girls' school because her late father left her penniless. Things get even worse when she learns that her mother was African.
Critic Reviews for Band of Angels
Audience Reviews for Band of Angels
As a favorite line from the movie says "I have a Poverty of Words" to describe this Film.While some refer to this lesser known & beloved Movie as "Gone With The Wind Lite" & there are definite parallels, this Splendiferous Film has it's own merits.Yes, Clark Gable is in it, & a Southern(New Orleans) Gentlemen Slave/Land Owner,Hamish Bond.He is also a bit of a Rouge as Rhett Butler, but in this case, a Former Ship Fleet Captain with a Dirty Secret.It's also got a very Spunky,Educated,& Beautiful Daughter of a Kindly Plantation/Slave Owner, Amantha Starr(Yvonne De Carlo)that has had life's misfortunes harden her heart. Upon his death, she learns her true heritage is having been born to a Black Slave Mistress of her Fathers, & now is Chattel to be sold at Auction as a Slave towards his debts.Hamish buys her for $5000 Dollars, to save her from Crueler Fate, for which she hates him & tries to escape. She eventually yields to his kindnesses & becomes his Lover. Sydney Poitier is also in this as RauRu, Hamish's seemingly Educated Overseer Slave who has a Love/Hate relationship with Hamish.It all becomes quite complicated when the Civil War breaks out & RauRu fights for the North & Hates his former Master & Amantha for Loving a White Man.RauRu's loyalty, & very beliefs, are tested, & Hamish's Shameful Secret is Revealed. The empire again needs to be re-established,another parallel to GWTW, but in this case , Gable(& De Carlo) "Give a Damn".........Awesome Movie, love it almost as much, but different than, GWTW.Just wish it were on as often, so just go buy it then!!!
Marilee Aschwanden
½
Gable, de Carlo, & Poitier. Wow. A tale of slavery and prejudice which will challenge any notions the viewer may hold. The truth is only as simple as we choose choose to perceive it. Worth watching more than once.
Christopher Bergan
Ridiculous, disjointed, period flick set during the Civil War. Yvonne De Carlo (Lily Munster) plays a ultra light-skinned black woman (ha ha) sold into slavery and purchased by a nice-guy slave owner Hamish Bond (Clark Gable). Of course she falls in love with him, for he really is a nice "master". Bond is like a savior of the blacks he owns. Later we learn he is making up for his evil past as a slave trader. Bond flees the "carpet-bagging" nothern soldiers, and goes into hiding. Sidney Portier plays Raru, a freed ex-slave of Bond's, who is temporarily angered by his history with Bond. In the end he realizes the error in his judgement and helps Bond escape with De Carlo. This film is rife with stereo-types and plenty of bias against the "Blue Bellies". There are negative portrayals of nearly every Union soldier. And plenty of stereotyped cartoon character blacks and southern whites. Efrem Zimbalist Jr makes a cameo.
Bob Feur
Band of Angels Quotes
There are no approved quotes yet for this movie.
Discussion Forum
Discuss Band of Angels on our Movie forum!