Beastly
(2011)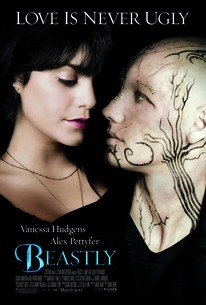 TOMATOMETER
AUDIENCE SCORE
Critic Consensus: Fundamentally misguided, poorly written, and badly acted, Beastly adds little to the legacy of its timeless source material.
Movie Info
Beastly is an edgy teen romance about learning how to see past false surfaces to discover true inner beauty. Kyle Kingson (Alex Pettyfer) has it all - looks, intelligence, wealth and opportunity - and a wicked cruel streak. Prone to mocking and humiliating "aggressively unattractive" classmates, he zeroes in on Goth classmate Kendra (Mary-Kate Olsen), inviting her to the school's extravagant environmental bash. Kendra accepts, and, true to form, Kyle blows her off in a particularly savage fashion. She retaliates by casting a spell that physically transforms him into everything he despises. Enraged by his horrible and unrecognizable appearance he confronts Kendra and learns that the only solution to the curse is to find someone that will love him as he is - a task he considers impossible. Repulsed by his appearance, Kyle's callous father (Peter Krause) banishes him to Brooklyn with a sympathetic housekeeper (LisaGay Hamilton) and blind tutor (Neil Patrick Harris). As Kyle ponders how to overcome the curse and get his old life back, he chances upon a drug addict in the act of killing a threatening dealer. Seizing the opportunity, Kyle promises the addict freedom and safety for his daughter Lindy (Vanessa Hudgens) if she will consent to live in Kyle's Brooklyn home. Thus begins Kyle's journey to discover true love in this hyper-modern retelling of the classic "Beauty and the Beast" story. Vanessa Hudgens (High School Musical) and Alex Pettyfer (Wild Child, Stormbreaker) star in Beastly for CBS Films, the film division within CBS Corporation (NYSE: CBS.A and CBS). Daniel Barnz (Phoebe In Wonderland) directed the project which completed principal photography in Montreal in August 2009. The film will be released in theaters in July 2010. Susan Cartsonis (No Reservations, What Women Want) is producing through her company, Storefront Pictures. Roz Weisberg is co-producing. In addition to his role as director, Barnz wrote the screenplay, which is based on the Alex Flinn novel of the same name. -- (C) Disney
People Who Like this movie also like
News & Interviews for Beastly
Critic Reviews for Beastly
Audience Reviews for Beastly
I was very excited to see this film, a neo-Beauty and the Beast sounds intriguing. Unfortunately with high expectations comes greater pressure to succeed. And this film goes down as one of my most disappointing films of all time. The acting seems more suited for a teenage television show. There were several unbelievable scenes involving a character standing unnoticed only a few steps away from another individual. The plotline involving Lindy being forced into staying with the "Beast" was was not convincing; the character of her father in particular was not well thought out. Finally Ive heard multiple people point out how cool the main character looked after he turned 'ugly'. In fact, Ive seen quite a lot of people that intentionally give themselves a similiar look! Neil Patrick Harris was wonderful and is actually a bright spot in the movie. When the movie was over the basic theme that was left was not 'beauty within' but more like 'it doesnt matter how ugly you become as long as you have money...'
Gregory Dark
Super Reviewer
Another film that appears to have been snatched out of the pages of a high school girl's journal. Immature characters with vapid character development -- which is particularly problematic when teenage character development is the whole point of the film. And that Olsen girl?! Awful! Stick to lunch pail modeling, Mary Kate!
Christian C
Super Reviewer
I have to admit, it was better than I expected (by that I mean I could sit through it!). Both the leads I found pretty weak as actors. For me the highlight was Mary Kate Olsen as the goth witch. Seriously, she was the most convincing part in this (I can't believe I am saying that). I totally bought her as a bit twisted and sod the romance, the ending with her character was the best bit! I didn't like the makeup on the beast very much. There is ugly and then there's ridiculous. His markings and veins crossed the line to ridiculous.
Nicki Marie
Super Reviewer
Beastly Quotes
| | |
| --- | --- |
| Kyle Kingson: | When I was in kindergarten, my dad offered to take me anywhere I wanted. We came to the zoo. He bought me all the toys and candy I wanted. And at the end of the day, he told me that my mother had left |
| Kyle Kingson: | When I was in kindergarten, my dad offered to take me anywhere I wanted. We came to the zoo. He bought me all the toys and candy I wanted. And at the end of the day, he told me that my mother had left. |
| Kyle Kingson: | I haven't seen her since. After he told me, I ran away..and hid in here. And saw this movie. It's about this mother elephant, who's two babies die. She misses them so much.. |
| Kyle Kingson: | And when she's migrating back a year later..a year later, she finds her babies bones. Can you imagine that love? |
| | |
| --- | --- |
| Kendra: | "Kyle, you suck it." |
| Kendra: | Kyle, you suck it. |
| | |
| --- | --- |
| Lindy Taylor: | [to Kyle/Hunter] So here I am okay. Where ever you are. But if you come near me, I'll teaser your ass! |
| Lindy Taylor: | [to Kyle/Hunter] So here I am okay. Where ever you are. But if you come near me, I'll taser your ass! |