Beatriz at Dinner
(2017)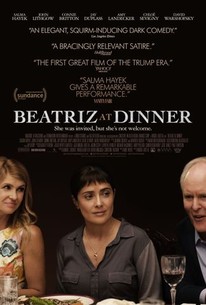 TOMATOMETER
AUDIENCE SCORE
Critic Consensus: Beatriz at Dinner offers timely social commentary enlivened by powerful, layered performances from Salma Hayek and John Lithgow.
Movie Info
Beatriz (Salma Hayek), an immigrant from a poor town in Mexico, has drawn on her innate kindness to build a career as a health practitioner in Los Angeles. Doug Strutt (John Lithgow) is a cutthroat, self-satisfied billionaire. When these two opposites meet at a dinner party, their worlds collide and neither will ever be the same.
News & Interviews for Beatriz at Dinner
Critic Reviews for Beatriz at Dinner
Audience Reviews for Beatriz at Dinner
½
Billed as a Trump-era satire, and given the fact that the premise involves a middle-aged, working class Mexican immigrant going head-to-head with a rich, bilious, selfish real estate tycoon who proudly skirts the law, you'd be expecting fireworks. That's quite a culture clash and writer Mike White (School of Rock) serves up the making of a delicious and squirm-inducing evening as the titular Beatriz (Salma Hayek), a holistic massage therapist, is marooned at the house of a rich client (Connie Britton). They're hosting a very famous, very influential business tycoon (John Lithgow), and his demeanor and perspective couldn't be more opposite from Beatriz. As the night wears on, and the wine is consumed, Beatriz confronts these privileged and oblivious people. The most frustrating part about Beatriz at Dinner is that all the pieces are there for a terrific movie but White's script goes slack in the second half. The film never really escalates the drama and you keep waiting for more confrontations. I think perhaps I wanted the stage play version of this story, a dialogue-driven debate between two combative characters buoyed by a sense of righteous indignation. Hayek is quite good and reminds you what kind of actress she has at her disposal. Her wounded expressions say volumes. The other problem is that this 85-minute movie ends on a note of baffling nihilism that left me cold. It's like White threw up his hands and declared that as long as there are powerful men in the world like Trump, with an oversized influence the common man cannot compete with, then why bother trying to heal the world and make it a better place? It's an abrupt ending and one that doesn't feel in keeping with the character. I wish someone would take this story and adapt it for the stage and give it the treatment it deserved before White sacrificed all for his fatalistic message about the futility of trying in the Trump era. Nate's Grade: C+
Nate Zoebl
Super Reviewer
½
A movie that didn't know what it wanted to be - a biting satire, an anti-Trump screed, a look into the lives of vacuous people. Could have been much better. Gave it a 50 thanks to Connie Britton. (6-25-17).
OH DEAR, WHITE PEOPLE - My Review of BEATRIZ AT DINNER (3 Stars) On paper, it seems like a slam dunk. Director Miguel Arteta and writer Mike White (THE GOOD GIRL, CHUCK AND BUCK) have teamed up again for another squirm-inducing comedy and have provided a strong for a talented actor in the process. Unfortunately, BEATRIZ AT DINNER employs an easy target (rich, clueless white people) and surrenders to the hopelessness of its premise. It's a perfect film for the Trump Era, but not necessarily a satisfying experience. Salma Hayek plays Beatriz, a Healer who spends her days treating the terminally ill, lives in her humble Alta Dena home with her pets, including a noisy goat. Hired by the wealthy mother Cathy (Connie Britton) of one of her cancer patients to provide an at-home massage, Beatriz finds herself stuck at Cathy's mansion when her car won't start. Cathy and her uptight husband Grant (David Warshofsky) are hosting a dinner party that night and Cathy, who feels such a strong connection to Beatriz for helping her daughter, insists she stay for dinner. This would all seem very nicey-nicey if it weren't for the fact that we learned earlier that someone has killed one of Beatriz's goats, and this inner turmoil will carry over into her day. Cathy and Grant have invited over two rich couples, Trump-esque land baron Doug Strutt (seriously!) played by John Lithgow and his wife Jeana (TRANSPARENT'S Amy Landecker), and Shannon (Chloë Sevigny) and her young turk husband Alex (TRANSPARENT'S Jay Duplass). They've come together to celebrate a shopping center development that will displace some animal life. This, of course, disgusts Beatriz, who dives headlong into confronting this gaggle of somewhat coarsely-drawn boobs. She stands out from this chic crowd as she's dressed in khakis and a polo shirt and waits awkwardly on the periphery before being introduced. Naturally, the casual racism inherent within this group allows for someone like Strutt to assume she's part of the house staff. White and Arteta do a terrific job with the uncomfortable material during this section, although, again, demonizing the "unwoke" 1 percenters is like shooting fish in a barrel. Although every insensitive interaction with Beatriz rings true, we're dealing with a fairly one-note cast of characters, with Hayek and Lithgow being the exceptions. Sure, people like Landecker's character will change the subject of class differences to a pop culture, but when we know so little about her, it comes off as slightly cartoonish. She's such a great actor that she manages to make Jeana memorable and entertaining, but it's still thin. For much of the film, we watch as Beatriz wakes up and realizes how screwed the world is when the people in power have so little regard for the working class. Hayek brings a huge amount of empathy to her role, blossoming in close-up after close-up, communicating complex emotions with great purity and ease. It's the most mesmerizing performance of her career so far and makes the film worth seeing. Lithgow also nails his scary mogul, slowly revealing the evil underneath the casual smarm. BEATRIZ AT DINNER works for its first two thirds as an entertaining, sad look at the class struggle, warmly shot by Wyatt Garfield (BEASTS OF THE SOUTHERN WILD), fully enveloping us into Beatriz's point of view. With every slight, every ignorant or entitled declaration, we feel Beatriz die just a little. The third act, however, goes off the rails a bit, playing more to Beatriz's weaknesses instead of her strengths. Many may view her as a depressed killjoy, while others will see a brave warrior. Neither opinion is wrong, and the film tries to have it both ways with an ending that likely won't satisfy anyone.
Glenn Gaylord
Super Reviewer
Beatriz at Dinner Quotes
There are no approved quotes yet for this movie.
Discussion Forum
Discuss Beatriz at Dinner on our Movie forum!