Beetle Queen Conquers Tokyo
(2009)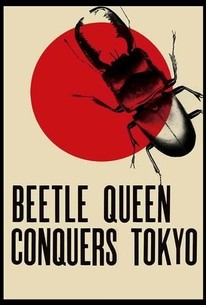 Beetle Queen Conquers Tokyo Photos
Movie Info
What is it about the Japanese and bugs? Inside a Tokyo pet shop, a little boy delights in selecting his new pet, a rainbow beetle costing $57.00. Japanese aesthetics -- whether textiles, architecture, gardening, graphics, brush painting or haiku -- all reflect a highly refined appreciation for both the diminutive and the transient. Beetle Queen explores the world of Japanese insect-lovers, from the sublime--families who visit the countryside to hear choruses of crickets or experience the yellow-green flashes of light emitted by thousands of fireflies to the ridiculous--beetle cartoon images that infest the zeitgeist.
News & Interviews for Beetle Queen Conquers Tokyo
Critic Reviews for Beetle Queen Conquers Tokyo
Audience Reviews for Beetle Queen Conquers Tokyo
Similar to the way that people collect coins or playing cards, the Japanese love to collect beetles of all different shapes and sizes. Some are quite ornate and lovely to look at it but I find it hard not to think that every beetle in the country has to have been captured to meet the high demand.
John Ballantine
Super Reviewer
½
As anecdotal, reductive, and repetitive a documentary that "Beetle Queen Conquers Tokyo" sometimes is(although you have to love that title), at the same time, there is a fine sentiment buried here about respecting nature, using Japan's blend of Shinto and Buddhist philosophy as a model. According to the documentary, this is why insects(even the creepiest and ickiest of them) are so widely accepted there. So much so, that the songs of crickets are enormously popular and an entrepreneur buys a Ferrari solely from the profits from capturing beetles for stores. Except it does not tell the whole story and is a prime example why bringing up the idea of national identity is to say the least, wrong. If you don't believe me, check out "The Cove" about how some Japanese fishermen have a total lack of respect for nature. So which picture is right? Both? Neither? Just remember that this is a complex world we live in.
½
Artistically this film works on all levels, information wise is another story. The film is about how the Japanese culture is obsessed with insects, but the Doc. never dives into why. I went into this film expecting those questions to be answered, but instead it is full of beautiful imagery and transience music. I loved that part about this film, but I was expecting something else. It would have been nice to get some information, but as long as you know what you going into you should enjoy yourself.
cody franklin
Super Reviewer
Beetle Queen Conquers Tokyo Quotes
There are no approved quotes yet for this movie.