Bergman Island (Ingmar Bergman - 3 dokumentärer om film, teater, Fårö och livet av Marie Nyreröd)
(2006)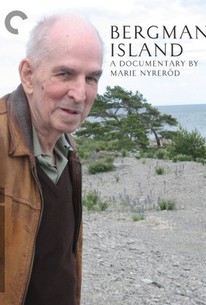 Bergman Island (Ingmar Bergman - 3 dokumentärer om film, teater, Fårö och livet av Marie Nyreröd) Photos
Movie Info
Legendary filmmaker Ingmar Bergman opens his soul to filmmaker Marie Nyreröd for a three-part documentary produced for Swedish television and offering the most intimate portrait of the director since Vilgot Sjöman's 1963 film Ingmar Bergman Makes a Movie (a documentary which followed the making of Bergman's acclaimed 1962 chamber drama Winter Light). A longtime friend to her celebrated subject, Nyreröd teams with editor Kurt Bergmark to offer a three-sided meditation on Bergman that begins by examining his film career before moving on to his theatrical accomplishments and personal struggles. From his remarkable accomplishments as the artistic director for the Royal Dramatic Theater in Stockholm to his collaboration with faithful producer Lorens Marmstedt, every aspect of Bergman's enduring and prolific career are discussed before the pair head back to the director's Faro home for an intimate and relaxed interview. ~ Jason Buchanan, Rovi
Cast
News & Interviews for Bergman Island (Ingmar Bergman - 3 dokumentärer om film, teater, Fårö och livet av Marie Nyreröd)
Critic Reviews for Bergman Island (Ingmar Bergman - 3 dokumentärer om film, teater, Fårö och livet av Marie Nyreröd)
Audience Reviews for Bergman Island (Ingmar Bergman - 3 dokumentärer om film, teater, Fårö och livet av Marie Nyreröd)
A deeply personal look into the genius of Ingmar Bergman who is a very secluded and reserved visionary auteur who lives alone on Faro Island. The film depicts several key elements and inspiration for Bergman's films and themes as well as his personal life and is truly a stunning and personal insight into the mind and even the fears of the man beneath the genius. I really enjoyed this documentary, as Bergman is one of the most gifted filmmakers ever in my opinion and is a superior story teller and one of the most fascinating Director's who ever lived. He will be sorely missed, yet his films remain and will continue to inspire for generations to come!
Chris Browning
Super Reviewer
½
[font=Century Gothic][color=darkslategray]"My Dad Is 100 Years Old" is a short collaborative film by Isabella Rossellini and Guy Maddin, that serves as a tribute to Rossellini's father, noted film director, Roberto Rossellini(1906-1977), on the event of his centennial. Isabella plays several parts including David Selznick, Alfred Hitchcock(in silhouette) and Federico Fellini arguing about his work.(Roberto is represented by a wobbling belly.) This unique film does not truly come together until Isabella invokes the spirit of her late mother, Ingrid Bergman.[/color][/font] [font=Century Gothic][color=#2f4f4f][/color][/font] [font=Century Gothic][color=#2f4f4f][/color][/font] [font=Century Gothic][color=black]"Bergman Island" is a documentary consisting mostly of interviews of famed director Ingmar Bergman at his Faro Island home where he filmed some of his most notable films and has lived for the past few decades. Also included is rare 16mm behind the scenes footage. Partially under discussion is how Bergman's early and personal life have influenced his films. [/color][/font] [font=Century Gothic][/font] [font=Century Gothic]It is almost impossible to get Bergman's lengthy career boiled down into a documentary with this short running time. It is informative but I think it would have fared best if it had focused on material that was less familiar like his theatre work which is most likely unknown to viewers outside of Sweden.[/font]
Bergman Island (Ingmar Bergman - 3 dokumentärer om film, teater, Fårö och livet av Marie Nyreröd) Quotes
There are no approved quotes yet for this movie.