Black Venus (Venus Noire)
(2011)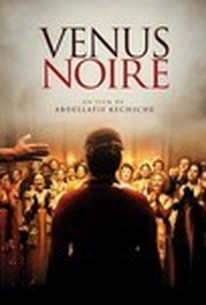 Black Venus (Venus Noire) Videos
Movie Info
A woman turned into a sideshow attraction by those who imagine themselves her superiors struggles to maintain her dignity in this drama based on a true story. Sarah "Saartjie" Baartma (Yahima Torres) was born in South Africa but found a certain fame in Europe in the first decades of the 19th century, as she was exhibited like a sideshow attraction by Hendrick Caezar (Andre Jacobs), who billed her as "The Hottentot Venus" and encouraged audiences to view her as part human, part animal. Baartma performed like a trained animal under Caezar's direction, and sometimes she was required to appear nude before the crowds as spectators were allowed to touch her buttocks and genitals. When reporters condemn Caezar's exploitation of Baartma, she declares in court that she's acting of her own free will, but she's hesitant to explain why she allows herself to be treated so poorly. When Baartma's partnership with Caezar comes to an end, she finds herself working with a French showman, Reaux (Olivier Gourmet), who is even less scrupulous as he parades her before slumming French aristocrats, and later she is at the mercy of Georges Cuvier (Francois Marthouret), a scientist who uses her as part of his vile experiments in hopes of proving Africans are racially inferior. Written and directed Abdellatif Kechiche, Venus Noire (aka Black Venus) received its North American premiere at the 2010 New York Film Festival.
Rating:
PG-13
Genre:
,
Directed By:
Written By:
On DVD:
Runtime:
Studio:
Unknown
Critic Reviews for Black Venus (Venus Noire)
Audience Reviews for Black Venus (Venus Noire)
A devastating and emotionally exhausting film that exposes without concessions, almost like a documentary and with the use of extreme close-ups, the real-life suffering of a poor woman who was brutally exploited, humiliated and treated like an animal for other people's pleasure.
Carlos Magalhães
Super Reviewer
At first I thought that this film was utterly racist. Mind you not racist as in openly saying that black people are inferior, on the contrary it tends to depict every single white character as a lustful, small-minded, violent vulgaroid. No, this film appears racist because it shows the lead character as purely the object of other people's plans and ambition. She seems devoid of any form of will for herself. She is never shown taking the initiative, not even to buy a single hat! She lets her life turn into a pathetic spectacle be it on stage or in the real life, like in that scene in the London court room where she is paraded in from of yet another audience. All along she is not more active than an old rag carried by the wind. But the film is not racist, it is simply misanthropic, it's not that the director despises the black character particularly, he apparently hates everybody equally. Yet the character is obviously a rather gifted person full of energy and curiosity. She's objectively admirable even. She can speak at least four languages, she volunteered for a trip that would take her on the far side of the world, she obviously must have had plans, things she wanted to do after her business venture. But no, for some reason, she's deprived of that personality. This form of complete alienation coupled with the utter vulgarity of the rest world makes for a gloomy philosophy barely worth of an adolescent going through a passive agressive teenage crisis. Around her the world is crumbling (the scenes in Paris are shot the very same month as the battle of Waterloo which brought about the collapse of Napoleon's empire), but she and the director are really not interested. I could see no love in the camera's eye, which is particularly sad considering that the cast in general was excellent. Andre Jacobs in particular is magnificent. To his credit, I have to say that the director is able to make the audience share completely his general hatred for the world around him. After almost three hours of being hammered with soft-core sadistic porn on repeat and seeing close ups of ugly faces and unappealing naked bodies, I too hate the whole of human kind, Afrikaans, French, Hottentot, English, all of that slimy, stinky, sweaty lot! At the end of the film, I felt nauseous even though I couldn't say if the cause was the constantly moving shoulder-held camera or the disgust inspired by Kechiche's cold outlook on life.
Ben Gui
½
'Black Venus'. Based on the story of Sarah Baartman, whose body was sickeningly, and continuously exploited by all the men in her life at the turn of the 19th century. Confronting, saddening, very difficult to watch at times, with an astounding lead performance. Did run a little too long though.
Black Venus (Venus Noire) Quotes
There are no approved quotes yet for this movie.