Blade Runner 2049
(2017)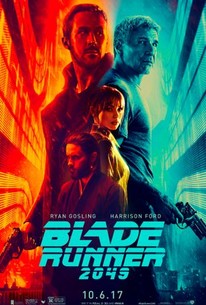 TOMATOMETER
AUDIENCE SCORE
Critic Consensus: Visually stunning and narratively satisfying, Blade Runner 2049 deepens and expands its predecessor's story while standing as an impressive filmmaking achievement in its own right.
Movie Info
Thirty years after the events of the first film, a new blade runner, LAPD Officer K (Ryan Gosling), unearths a long-buried secret that has the potential to plunge what's left of society into chaos. K's discovery leads him on a quest to find Rick Deckard (Harrison Ford), a former LAPD blade runner who has been missing for 30 years.
News & Interviews for Blade Runner 2049
Critic Reviews for Blade Runner 2049
Audience Reviews for Blade Runner 2049
We now find ourselves in an age where the filmmaking craft is so preoccupied with making money that it hinders the art form itself and saturates the market with crowd-pleasing dross. The rise of the superhero blockbuster has played a huge part in this and, as result, the creative and artistic nature of Blade Runner 2049 has become a casualty. Like Ridley Scott's film before it, it has proven to be a box-office failure and despite the desire to provide sequels, the masses simply weren't interested in this one. But 2017 took the sequel to a whole new level. They weren't just money-spinning exercises but revisits to much loved cult classics that were intent on exploring their characters in a whole new depth: 20 years after the drug-addled exploits of Trainspotting, Danny Boyle brought a satisfying maturity to T2 while, 25 years later, David Lynch revisited the quaint logging town of Twin Peaks with The Return - a deeply surreal 18 episodes that has reinvented the way that television can be viewed. Going even further back than that, Denis Villenueve revisits Blade Runner after a 35 year hiatus and relieves my nervous disposition with the impressive completion of a 2017 hat-trick. Plot: Former blade runner, Rick Deckard (Harrison Ford) has been missing for thirty years and now LAPD Officer K (Ryan Gosling), has taken over the role of "retiring" replicants that don't conform to society. When K unearths a secret that has the catastrophic potential to plunge what's left of society into chaos, he has to find Deckard to get answers to what actually happened after he disappeared. A lot of credit must be given to director Denis Villenueve for taking on one of the biggest gambles in filmmaking history. To take on the unenviable task of delivering a sequel to the 1982 Ridley Scott classic, Blade Runner, shows real, self-assured confidence. Villenueve took the task on simply because he thought he could do a serviceable job while fans of the original (myself included) had strong reservations about a sequel even happening in the first place. As is always the case, however, the proof is in the end result and I couldn't be more happy that Villenueve has been vindicated. His vision of Blade Runner both expands upon its predecessor while also complimenting it's narrative depth and ethereal beauty. Villenueve's decision to open on a close-up shot of an iris is an obvious choice - with perhaps the only thing missing being a referential wink to the audience. Within seconds he goes on to depict an expansive, genetic farming land that's as desolate as it foreboding and already the opening "Hades Landscape" of the original springs to mind as Hans Zimmer creatively riffs on the iconic Vangelis score and manages that fine balance of reminiscence and originality. From here on, it's clear that we're back on Blade Runner territory and I'd be lying if I didn't say it felt good. There are many subtle references to the original throughout the entirety of the film but Villenueve is clever enough to make this film his own without succumbing to a pastiche. His deliberate pace will ostracise many viewers but it's entirely in keeping with the films meditative themes and allows cinematographer Roger Deakins the luxury of immersing us in this dystopian, retro-future with an abundance of gorgeous imagery. There's not a single frame wasted as Deakins delivers one of the most beautiful pieces of work ever committed to the screen. This visual genius has been nominated for an Oscar 13 times and he's lost every time. If there's any justice at all, he should win on his 14th attempt with this. This truly is a remarkable artistic achievement. Such is the visual mastery, you could be forgiven for getting lost in Deakins' sumptuous scenery and miss key elements to the plot but Villenueve, or more particularly screenwriters Hampton Fancher and Michael Green, explain things in relative layman's terms. It's not difficult to follow but sometimes can border on cliche and convenience. I didn't fully buy into some plot developments but the questions left from Deckard's past were, somewhat, unavoidable and this film provides some answers which slightly take away from the original's ambiguity. That said, it's an unavoidable line that had to be crossed and it's afforded a lot of care and respect. Although, the narrative is fairly simple the similar weighty existential and metaphysical themes are prevalent again. Where the first film explored the nature of existence, 2049 takes it slighter further and ruminates in what it constutes to have a soul and if you're looking for a reliable lead that can convey such world-weariness then look no further than Ryan Gosling. Gosling has fast become a physical master of minimalism and, as he has already proven in Drive or Only God Forgives for example, he can convey internal struggle by practically doing nothing - which makes him absolutely perfect casting here and apparently the first (and only) choice that Villenueve had in mind. He shoulders a lot of the philosophical weight of the film and holds things together when the pace is lesuirely and there's the overhanging (and overbearing) 1 hour 40 minute wait for Deckard to even appear onscreen. It's a wait that's worth it though, as it kicks the film into another gear and brings with it Harrison Ford's best performance in years. There's also more than able support from Ana de Armas as a complex hologram that longs for emotional connection and a megalomaniac Jared Leto with delusions of godliness. In other words, Blade Runner 2049 is a remarkable refurbishment and a genuinely astounding spectacle that manages to hit the beats of the original and still find its own rhythm. Some critics have have went as far to claim that this is an improvement over the original. Although I wouldn't go as far as that, this is still a magnificent continuation of the mythos. The only sour note is that it descends into slightly generic action material towards the end which jars with the deliberate and meditative tone that preceded it. That said, it manages to turn this around and when credits rolled, I found myself in contemplative silence, exhilarated by what I had just witnessed. Sequels that can achieve such a balance and expansion on their much loved predecessors are a rarity and, as a result, 2049 can take a bow and is fully deserving of a rapturous applause. Villenueve has only gone and made things we fans couldn't believe - a worthy sequel on the shoulders of a giant. Mark Walker
Mark Walker
Super Reviewer
For fans of the original Blade Runner, an Easter Egg of a film, a glorious gift for loyalty, for waiting for a follow up. For ... the rest of you, a nice and interesting sci-fi expedition into the consideration what constitutes a soul? Is it a merely physical essence? A factor of being sentient? And what difference does one make? What's the big deal?!? Or ... we follow a robot, whose job is terminating other robots, who curiously begins to ask itself the same questions in a results only oriented future unconcerned as you, Dear Reader, with the answers. Sci-fi greatness awaits.
Kevin M. Williams
Super Reviewer
½
I'll preface everything by admitting I wasn't a big fan of the first Blade Runner. While this film is beautiful to look at, the story could have been told in half of the runtime. The screenplay is really good, though it hits some deep lulls, and the directing is great, but the failure in editing hurts this film greatly.
Sanjay Rema
Super Reviewer
Blade Runner 2049 Quotes
There are no approved quotes yet for this movie.