Blade Runner 2049
(2017)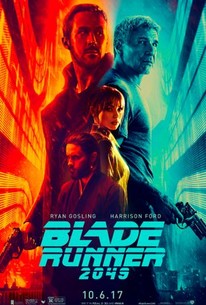 TOMATOMETER
AUDIENCE SCORE
Critic Consensus: Visually stunning and narratively satisfying, Blade Runner 2049 deepens and expands its predecessor's story while standing as an impressive filmmaking achievement in its own right.
Movie Info
Thirty years after the events of the first film, a new blade runner, LAPD Officer K (Ryan Gosling), unearths a long-buried secret that has the potential to plunge what's left of society into chaos. K's discovery leads him on a quest to find Rick Deckard (Harrison Ford), a former LAPD blade runner who has been missing for 30 years.
News & Interviews for Blade Runner 2049
Critic Reviews for Blade Runner 2049
Audience Reviews for Blade Runner 2049
For fans of the original Blade Runner, an Easter Egg of a film, a glorious gift for loyalty, for waiting for a follow up. For ... the rest of you, a nice and interesting sci-fi expedition into the consideration what constitutes a soul? Is it a merely physical essence? A factor of being sentient? And what difference does one make? What's the big deal?!? Or ... we follow a robot, whose job is terminating other robots, who curiously begins to ask itself the same questions in a results only oriented future unconcerned as you, Dear Reader, with the answers. Sci-fi greatness awaits.
Kevin M. Williams
Super Reviewer
½
I'll preface everything by admitting I wasn't a big fan of the first Blade Runner. While this film is beautiful to look at, the story could have been told in half of the runtime. The screenplay is really good, though it hits some deep lulls, and the directing is great, but the failure in editing hurts this film greatly.
Sanjay Rema
Super Reviewer
½
Bladerunner is an ideal example of Sci Fi that introduces worlds of grandeur and high fantasy but addressing the themes that come along with these ideas in the realm of an intimate character story. K(Gosling) is presented as humanly possible while blatantly contrasted by the fact that he isn't. He's not real, his lover/companion is not real yet here we are developing an innate attraction and feelings towards what should not be more than a lamp shade. As he's convinced to be the Replicant messiah so are we and it begins to make sense, "Oh, he's at least half human, alright!", but once the mystery unravels and he's not to be, we're compelled to reason with ourselves. Does it matter? What he felt, what we felt as an audience was real and it's there that we truly question the relevance of authenticity. Brilliant. 2049 is such an intelligent way to present a Sci Fi theme that has been beaten to death over the years repeatedly yet here it stands resonating, defying the idea that it can't be done. It's a convincing example that it's not only important to tell themes in new ways but it's key to have multiple elements of your story focus on it as well. It also says a lot to respect and bring elements of the original film into the story without making it feel like a cheap nod, kudos! If criticisms are to be had, it really should be where Deckard (Ford) is arbitrarily sent off-world to be intercepted by K. It sets up this bizarrely staged climatic fight between our protagonist and badass villainess Vu (Hoeks) There will also be complaints about pacing but honestly it's just filming sensibilities from different generations, by 80's standards this is the norm but you can make the argument that this is a 2017 release and it should have adapted. I was fine with it either way. In the end Blade Runner 2049 is an undeniable success that not only respects it's source material but enhances it beyond what could be expected!
Drake Tsui
Super Reviewer
Blade Runner 2049 Quotes
There are no approved quotes yet for this movie.
Discussion Forum
Discuss Blade Runner 2049 on our Movie forum!