Blood Diner
(1987)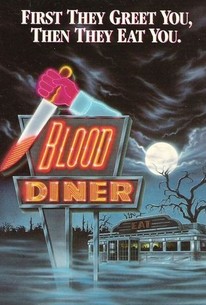 Movie Info
This splattery horror-comedy is the story of the two Tutman brothers, the owners of a successful health-food restaurant with some exotic menu items... namely the leftover body parts from the brothers' nightly human sacrifice rituals, conducted at the behest of their reanimated uncle (or more correctly, his reanimated brain and eyeballs). The nightly rites are intended to complete the job their uncle never got to finish: the resurrection of the goddess Sheetar, who will hopefully be reborn in a body the Tutmans have assembled from the hacked limbs and organs of their victims. If seen as a kind of acerbic homage to Herschel Gordon Lewis' seminal gore film Blood Feast, this could stand as a fairly entertaining black-comedy romp -- though it tends too often to stumble into some of the same low-budget pitfalls as the bloody epic which inspired it.
Critic Reviews for Blood Diner
Audience Reviews for Blood Diner
Possibly one of the worst films ever made (outside of The Room or any film by Uwe Boll). In the same sense that The Room became "good" because it was so fantastically bad, this film has a charm to its amateurish acting, dead character development and absurd script writing, bad lighting, absurd character interactions, ridiculous special effects and general, inexplicable suckiness.
Christian C
Super Reviewer
This film begins with a warning about the 'unusual motion picture' that you are about to see, and that description really couldn't be much more apt, as Blood Diner is a relentless assault of absurdity and general weirdness. This film has been compared to Herschell Gordon Lewis' trash classic Video Nasty, Blood Feast, and that is a suitable comparison to make as both films are really very similar. However, while Lewis' film seemed odd because of his lack of budget and general ineptitude, Blood Diner is out and out over the top and ridiculous on purpose, and the two films have different slants. The plot focuses on two cannibalistic brothers, who have been recruited by their uncle to resurrect an ancient Egyptian goddess. And, if you think that's weird - wait until you find out that the uncle is actually a brain and a pair of eyes in a jar, and the only way to resurrect the goddess is through killing and butchering a bunch of slutty women, and then sticking the various body parts together, Frankenstein style! Jackie Kong's film is bloody and gory, but it's never shocking because everything in the film is rendered redundant due to the tacky way in which it's presented. For example, in one scene someone has their hands chopped off - and the resulting stumps are longer than his arm and hand were in the first place! Of course, the film is purely played out for laughs, and as a tribute to Herschell Gordon Lewis, Blood Diner works really well. The plot does get lost too often; however, as the focus is always on getting as much weirdness into the film as possible, and at times the film veers way off course. The central plot isn't too interesting, though, so half the time the fact that the it gets lost is actually a bonus. The film plays out with a big smile on its face until the end, when it explodes with a climax worthy of such a grossly absurd film. However, while all this weirdness is good; Blood Diner does feel rather empty overall. Of course, there's only so far you can go with a premise like this; but Jackie Kong has managed to go far as Lewis did back in the sixties, so I rate Blood Diner as a success...just.
Cassandra Maples
Super Reviewer
Two restauranteur brothers must assemble a vessel to receive the spirit of the ancient Egyptian goddess Sheetar from various parts harvested from immoral women, and the rest just sort of writes itself. With a talking brain in a jar and a nude aerobics massacre, it can't be all bad, but it tries hard by adding excedingly lame humor and gratuitous Nazi imagery to the mix.
Blood Diner Quotes
There are no approved quotes yet for this movie.