Blood Dolls
(1999)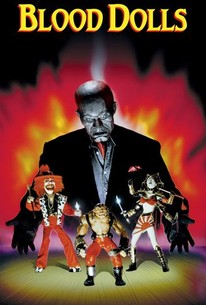 AUDIENCE SCORE
Critic Consensus: No consensus yet.
Movie Info
A masked scientist creates a troop of vicious dolls to violently avenge betrayals committed against. him.
Critic Reviews for Blood Dolls
Audience Reviews for Blood Dolls
Yes I can't believe it either but Band still somehow manages to make yet more killer doll flicks without anyone saying hey! haven't we done this before?!. This doll flick is pretty much the same as 'Puppet Master' accept the dolls are much more detailed, extreme looking, twisted and bizarre but also really decent looking too. The whole film is kinda off the wall or more like a twisted fairytale as the dolls are controlled by a villain with a normal human body but he has a shrunken head (think 'Beetlejuice') that actually looks good I must admit. His main henchman is a human version of 'Jack Attack' from 'Demonic Toys'...basically a big guy with clown face paint on which was a little disturbing I guess. All this and a sexy girl rock band imprisoned in a large cage for his amusement...sweet. The plot is...again...a bad guy using the dolls to kill for his own evil plans. A few different plot twists here and there buts its the usual thing really, not much else that can be done I guess. To be frank its just a chance for Band to make another puppet film with a new fun set of killer dolls, that's all, much like 'Doll Graveyard'. Its competent and solid as a doll horror, doesn't look cheap and nasty which is a bonus and the characters are good fun. Problem is its been done to death by now, by the same man numerous times.
Phil Hubbs
Super Reviewer
½
Garsh, I love "Blood Dolls". It has a freakish billionaire Virgil Travis (the man in the iron mask on the poster), sending his little "Blood Dolls" to eliminate his corporate competitors. The dolls are a little pimp man, an ogre and a Japanese warrior. It's cool because we get to see the process how his dolls are made. There's musical numbers too! Travis and his midget butler keep a girlie leather-clad rock band in a cage and force them to play different numbers throughout the movie. Travis' henchman, Mr. Mascaro, always has a face with clown makeup. It's all campy and fun. It's great when Travis takes off his helmet to reveal his real face. A Full Moon Studios classic!
Lafe Fredbjornson
Super Reviewer
Blood Dolls Quotes
There are no approved quotes yet for this movie.