Blood of the Vampire
(1958)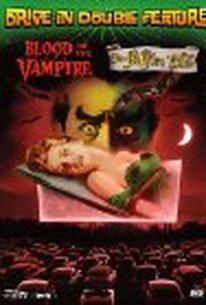 AUDIENCE SCORE
Critic Consensus: No consensus yet.
Blood of the Vampire Photos
Movie Info
A palatable combination of horror and science fiction, Blood of the Vampire takes place in 19th century Transylvania-and never mind that all the locals have cockney accents. British stage star Donald Wolfit, who never spoke when shouting would do, plays the vampiric Dr. Callistratus. Though we see Callistratus being dispatched in traditional stake-through-the-heart fashion during the opening credits, it isn't long before he returns to life, this time in the guise of a prison warden. Using his criminally insane charges as his guinea pigs, Callistratus drains their bodies of blood in order to stay alive. In the film's incredibly busy climax, Callistratus is prevented from carving up the toothsome Madeleine (Barbara Shelley) by his hunchbacked assistant Carl (Victor Maddern). We didn't see the kitchen sink, but we'll bet that that's in here somewhere too. Often mistaken for a Hammer film production (mainly because it was written by perennial Hammer scrivener Jimmy Sangster), Blood of the Vampire was actually produced by the short-lived Artistes Alliance Ltd. ~ Hal Erickson, Rovi
Critic Reviews for Blood of the Vampire
There are no critic reviews yet for Blood of the Vampire. Keep checking Rotten Tomatoes for updates!
Audience Reviews for Blood of the Vampire
½
A not very good vampire/mad scientist mash up. The vampire side of things was both underdeveloped and unnecassary. Story is a vampire is killed with a stake through the heart, but is somehow brought back to life via blood transfusion. Six Years later a doctor is sent to a prison for the criminally insane on a malpractice charge. The prisoner is quickly selected to assist in blood transfusion experiments, conducted by none other than the vampire from the begining of the movie. Whether or not he is actually a vampire is never fully explained, but it appears he was simply the victim of superstition. Yup. The story is none too original. At first I was enjoying the movie despite its obvious flaws, but by the midway point I was just bored. Towards the end I started to doze off but managed to stay awake through till the bitter end. I didn't exactly hate this movie either. It is what it is... A B grade film from the late 50's. But I'd be lying if I said that there was anything exceptional on display here. Watch it if you go for this sort of thing I guess. Just don't expect too much.
Ed Fucking Harris
Super Reviewer
I don't remember this movie in great detail, but I remember it being alright, not good but not bad either. It's not one of the best vampire movies I've seen, it's more of a mad scientist movie.
Blood of the Vampire Quotes
There are no approved quotes yet for this movie.