Boesman and Lena
(2000)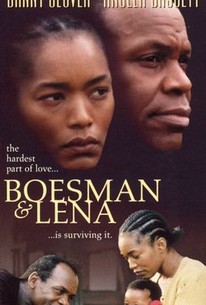 Movie Info
Angela Bassett and Danny Glover star in this gripping film adaptation of Athol Fugard's renowned play. Though written during the apex of apartheid and first staged in 1970, director John Berry downplays the work's historical background and strips the play of its poetic symbolism, lending the film a raw, universal quality. The film opens with stock footage of shantytowns being flattened by bulldozers followed by the two titular characters carrying what they can on their backs and heads. Recalling the tortured human bonds seen in such productions as Who's Afraid of Virgina Woolf? and Waiting for Godot, Boesman (Glover) and Lena (Bassett) are a couple united by pain and grief. Stopping at some god-forsaken roadside wasteland for the night, Lena spends much of the first half of the film heaping verbal abuse on her husband, while Boesman doggedly tries to jerry-rig some shelter to protect against the cold of the night. This dynamic changes went an elderly African tribesman shows up. Boesman scorns the old man, while Lena invites him to sit at their campfire. This film, which was screened at the 2000 Cannes Film Festival, was the last film that noted director John Berry made before his death on November 29, 1999.
Critic Reviews for Boesman and Lena
Audience Reviews
There are no featured reviews for Boesman and Lena at this time.
Boesman and Lena Quotes
There are no approved quotes yet for this movie.