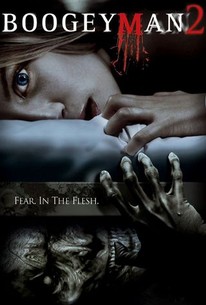 Boogeyman 2
2007, Horror/Mystery & thriller, 1h 29m
3 Reviews
25,000+ Ratings
Where to watch
Rent/buy
Rent/buy
Rent/buy
Rate And Review
Movie Info
A killer terrorizes patients at a mental institution where a woman (Danielle Savre) tries to cure her fear of the boogeyman.
Audience Reviews for Boogeyman 2
Sequel to Boogeyman, this is a poor attempt at delivering a good, horrifying and fun experience. This is a horrible film, and considering that the first was a good, underrated flick, you'd understand why this one might be bad. I felt that whatever made the first film watchable was absent, and the filmmakers simply took elements of the first film to make this film. Unfortunately there's nothing good at work here, nothing new to thrill or entertain the viewer neither. Boogeyman 2 is a pointless and quite frankly unnecessary sequel to a good little horror film. This film is just not what the first film was, and that's a mindless, entertaining monster flick. I think that there was a lot of potential in delivering a watchable sequel, but with this film, it misses the mark, and ends up being a film with nothing good about it. This is a poorly conceived sequel, and considering this, Boogeyman should never have had a follow-up. The acting here is pretty poor and the script is bland and like I stated, relies on ideas explored upon in the first film, thus a sequel was not needed. The studio just wanted more money with a sequel, and it's the case with this film. No creative effort was put into this film, and the end product is a film that is poorly done, lazy and uninspired with a poor cast to act out stuff we've seen in the first flick. If you've seen the first film, and haven't seen the sequels, don't, you'll be glad you did, and you're not missing out on much.

A great sequel. It had nothing to do with the last one though, that's the only problem..This is a completely different story. The acting was good, especially from one of my favorite horror movie actors, Tobin Bell. It had very scary\creepy moments, which is good...the blood\gore was insane as well. The "boogeyman" looked much much better\more realistic instead of the one in the first installement...although this one looks like a member from Slipknot. The make up was somewhat ok, but that doesn't stop this film from being an outstanding sequel.

If this wasn't the sequel of the first one, then it would have been awesome. But it just ruined everything. It became more of a slasher than supernatural. I liked the story and acting and everything. But it's supposed to carry on with the starting right? We are talking about Boogeyman! Not some maniac! Jeez. They should have kept the originality of the movie. If they wanted to change the whole theory, then just change the title of the movie and also don't attach it with the first one. It's misleading.

This one I think I actually liked more than the original. There was the right ?mount of blood, gore, & the kills came at all the right times, Some maybe too soon. Oh yeah wait til you see who is their doctor. LOL I?ll just say he?s got his own franchise.
See Details