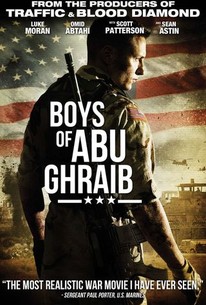 Boys of Abu Ghraib
2014, Drama/Mystery & thriller, 1h 42m
10 Reviews
250+ Ratings
Where to watch
Rent/buy
Rent/buy
Rate And Review
Boys of Abu Ghraib Photos
Movie Info
A rookie guard (Luke Moran) at the Abu Ghraib prison secretly befriends an Iraqi detainee who is suspected of constructing a bomb that killed innocent civilians.
News & Interviews for Boys of Abu Ghraib
Audience Reviews for Boys of Abu Ghraib
This watered down version of the war crimes at the torture place of Abu Ghraib is just a way to describe the opinion that "Haji's" deserve it! Look at the name of the producers (Edward Zwick and Marshall Herskovitz) and you will understand that this American war movie inspired by the events that took place at the Abu Ghraib prison, which made worldwide news in 2004, is not made to entertain us or to inform us - it is made to change our way of perceiving these events as right at the given moment! Written and directed by Luke Moran, who co-stars alongside Sean Astin, Omid Abtahi, Sara Paxton, and John Heard, it is a perfect film for brainwashed idiots, but not for anyone who actually looks for something more that 'pride of the nation'. No emotion, no chemistry, no thrill or excitement - it is a movie which simply deserves to be forgotten! As quickly as possible... and the events need to be remembered, the way they actually happened! The film starts in 2003, the day before 22-year-old Jack Farmer (Luke Moran) ships out for Iraq, having joined the Army Reserves in hopes of being part of something bigger than himself! With dozens of other young men, some finding themselves there because they are patriotic, others because they wanted an adventure and sheer youthful restlessness, he arrives at Abu Ghraib, 20 miles from Baghdad and formerly used by Saddam Hussein to imprison, torture and murder dissidents... I really do not want to share the story which follows because it is as bland as it comes, made to soften the image of the events which actually happened between those walls of suffering! When Australian television network SBS program "Dateline" aired previously unpublished video showing the abuse of Iraqis in U.S. military custody at Abu Ghraib prison in 2003, we could see images of naked prisoners, some of them with blood lying on the floor. The pictures show almost the same abuses as the photos that caused Abu Ghraib scandal in 2004 - Iraqis subjected to sexual humiliation and shackled in positions tantamount to torture. Of course, Pentagon spokesperson Bryan Whitman said the Defence Department believed the release of additional images of prisoner abuse was harmful and "could only further inflame and possibly incite unnecessary violence in the world." It seems that this film is made to do completely opposite... calm down people?! The film won the Audience Award at the Gasparilla Film Festival, the only film festival it screened at... I am not really sure what was the competition like if this was the winner!

Boys of Abu Ghraib is one of those films that really could have been a good, memorable drama, but it ends up being a mediocre film due to the lack of a really good script and memorable performances. The film is your typical war drama, and tends to rely on your typical genre formula in order to create its story. While using the infamous prison of Abu Ghraib as a setting, the film follows a soldier who befriends an inmate during his tour of duty in Iraq. The idea is interesting, but the payoff is poor. Obviously, there is only a few ways to make a film with Abu Ghraib as a setting, and being to pull it off as it's quite a touchy subject after the scandal in 2004. Some ideas here are good, but for the most part it feels rushed, and the film's ideas never materialize into something really good. That's a shame because the film really could have been something good in terms of a drama and war film, but it ends up being a mediocre film that never satisfies. The abuse scandal raised plenty of debate and much criticism, and with good reason, here we get that aspect of the torture and humiliation, but it doesn't hammer the point across fully, and watching the film, I felt like they left a bit out. If the film would have been better developed, with much care with rewriting the story, I think that the film's effect would have resonated much more with the viewer, instead of having the torture scenes played out for mere shock value. Yes, it's shocking, disgusting among other things, but what fails here is the fact the sheer dehumanization process of which these soldiers go through in order to commit such atrocious acts against enemy combatants. More development in that area could have been much better because as it is, the film just rushes through that, and there never seems to be a conflict of interest that suggests that what these guys did was against the rules. If a few characters did that in the film and it did have a bit, but it was only briefly mentioned just for the sake of giving the film a ying/yang perspective, and it just doesn't pull through. Boys of Abu Ghraib could have been much better, but it's not awful, however it does leave a lot to be desired and considering its subject, it's a shame the filmmakers never managed to make something truly memorable or something to make you ask important questions.
See Details