Broken Sky
(2006)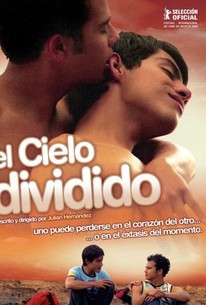 Movie Info
Mexican short-film specialist Julian Hernandez marks his sophomore feature film with this erotic, impressionistic tale about an emotionally tumultuous love triangle experienced between three attractive twenty-something men. Gerardo (Miguel Angel Hoppe) is a sensitive man who is deeply in love with longtime boyfriend Jonas (Fernando Arroyo). When Jonas becomes infatuated with a stranger he recently met at a local nightclub, heartbroken Gerardo soon seeks solace in the arms of sympathetic Sergio (Alejandro Rojo). Though his lovelorn pains are palpable, Gerardo remains incapable of ending his romance with Jonas despite the rapidly deepening chasm that seems to be splitting the once-happy pair apart.
Rating:
PG-13 (nudity, sex)
Genre:
,
Directed By:
Written By:
In Theaters:
On DVD:
Runtime:
Studio:
Critic Reviews for Broken Sky
Audience Reviews for Broken Sky
½
a wonderful movie worked with a shortage of dialogue that tells of deep silences and works perfectly with a wonderful choreography between the actors and the camera.
Christian Spain
½
This is not for everyone. Think 2 hour 20 minute walk through ballet without dancing. Previous reviews have explained plot and devices. It was an effective film and I couldn't turn it off, but stronger editing here and there would have gone a long way to my overall enjoyment. It was hard to finish. The film seemed aimless at times, repetitive, sometimes confusing and hypocritical (The relationship is over but it's not, repeats a few times) and oh so heavy handed. The use of physical expression instead of dialogue often conveyed mellow-dramatic cliches. I will say that performers could have gone way over the top but do a good job keeping things grounded. Some scenes felt a bit contrived like a walk through of an obvious dance piece where performers look longingly, approach, touch, turn away, turn back, turn away. In this simple story, no one get's to know the other. Characters see each other and fall in love. Such is the way of youth but I believe that the kind of profound love expressed here is established by more than a glance from across a space. The film has a lot of heart and the performances are good especially Miguel Angel Hoppe Canto who emotes really well. He's got angst and longing down pat. Scenes are lovely, compensating for lower production values. Some scenes are moving but the director seemed to need to repeat them deflating their impact. However actual it may be in life, it's eye-roll inducing when a character repeats the exact thing scene after scene. I have to say, I liked it, I liked the idea of it though it was excessive. I wanted to like it more and I would have an edited version.
Ronnie Culpepper
Such an intricate film, worth every moment, every second. So poetic, emotional and a story telling unfolding not in words but in images and emotion conveys by the actors that was not only artistic but realistic to anyone who has been is a similar situation... Sensationally sad, beautiful, hurtful and touching.
Lohan Roberto
Broken Sky Quotes
There are no approved quotes yet for this movie.
Discussion Forum
Discuss Broken Sky on our Movie forum!