A Bucket of Blood
(1959)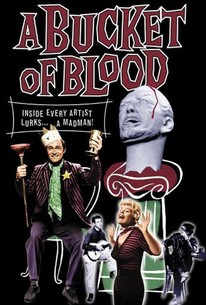 Movie Info
A horror film with comedic overtones, A Bucket of Blood is produced and directed by Roger Corman. It concerns a busboy in a beatnik coffee shop who aspires to be an artist. He accidently kills a cat he is trying to rescue from a wall and entombs the animal in clay to save his job. The shallow and pretentious art critics hail the young man as an artistic genius. He proceeds to entomb his contemporaries in clay in a macabre creative furor. He cuts of a man's head with a circular saw and his murderous crimes are only discovered the copse, hidden in the rafters, drips blood on the floor.
News & Interviews for A Bucket of Blood
Critic Reviews for A Bucket of Blood
Audience Reviews for A Bucket of Blood
The thing that I find most charming about some of Roger Corman's directing efforts is that he shot several of his movies in just a week to save money. What he turns out isn't amazing, but has its charms. A Bucket of Blood is more akin to The Little Shop of Horrors plot-wise in that it has some lowly loser who turns to murder to get people's attention. The plot doesn't really get more complex than that. He kills a cat and covers it in clay... he kills a guy and also covers him in clay... then he kills a gal and covers her in clay. That's about the gist of the entire story. Very simple but fun. The dialogue and acting are both terrible, as is the really awful beatnik poetries. It's just fun to watch a young Dick Miller do his thing, which is about the best draw to the movie. Yeah sure it's got some subtance to it, but that's the main thing I took away from it.
Tim Salmons
Super Reviewer
This is my favourite Corman movie of the fifties, I think. The only film where Dick Miller gets to play the main character too. It's both funny and suspenseful. Plus, it's about beatniks. I love this movie.
½
pretty funny horror movie thats only like, 30 minutes long. i wouldnt expect this amount of dark humor from something from the 50's. and i dont know what t.v. show that Dick Miller guy was on, but i used to see it
Coxxie Mild Sauce
Super Reviewer
A Bucket of Blood Quotes
| | |
| --- | --- |
| Maxwell Brock: | Walter has a clear mind. One day something will enter it, feel lonely... and leave again. |