Burma VJ: Reporter i et Lukket Land (Burma VJ: Reporting from a Closed Country)
(2008)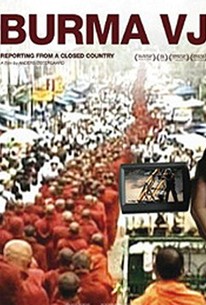 Burma VJ: Reporter i et Lukket Land (Burma VJ: Reporting from a Closed Country) Photos
Movie Info
The Southeast Asian nation of Burma (also known as Myanmar) has been under the control of a military dictatorship since a coup toppled the elected prime minister in 1962. With Burma's press and mass media under the control of the military government, dissent has had little opportunity to take hold in the country, but that began to chance in 2007; a band of Buddhist monks stepped forward to lead a revolt against the state, and as news spread about their actions, as many as 100,000 people took part in protests against the oppressive and violent leadership. The official state media ignored the uprising, but a new breed of reporters were at hand to cover the revolution -- the Democratic Voice of Burma, also known as the Burma VJs, a handful of young video journalists armed with hand-held digital video cameras. The Burma VJs filmed the protests as well as violent acts committed by police and military officials, and then smuggled the footage to colleagues in Thailand, who then passed their images on to news organizations the world over. Filmmaker Anders Østergaard offers a look at how new technology is pressed into the service of a people's revolution in Burma VJ, a documentary which tells the story of the Democratic Voice of Burma and their role in the battle for a free and democratic Burma. Burma VJ received its American premiere at the 2009 Sundance Film Festival. ~ Mark Deming, Rovi
News & Interviews for Burma VJ: Reporter i et Lukket Land (Burma VJ: Reporting from a Closed Country)
Critic Reviews for Burma VJ: Reporter i et Lukket Land (Burma VJ: Reporting from a Closed Country)
Audience Reviews for Burma VJ: Reporter i et Lukket Land (Burma VJ: Reporting from a Closed Country)
Gordon Anderson
Super Reviewer
½
Burma is the land that everyone knows has some issues. It is also the East Timor of the current generation. A military occupation that hardly receives a blip of media attention or celebrity advocacy.
John Ballantine
Super Reviewer
[font=Century Gothic]"Burma VJ" is a riveting documentary about the Democratic Voice of Burma, a courageous group of volunteer video journalists whose mission is to take videos of their native country of Burma which are then smuggled out to the rest of the world to counter the propaganda of the oppressive military rulers. What the documentary also does is shine a light on a country little is known of and put the momentous events of August and September 2007 in perspective when after decades of silence, ordinary citizens begin speaking their minds again when gas prices are doubled. A videographer codenamed 'Joshua' covers a singular demonstration but is arrested. He is later released but has his camera confiscated. Fearing for his safety, he crosses the border into Thailand to coordinate activities for his fellow video journalists by cell phone.(The footage of Joshua in Thailand is reenacted in order to link the amazing footage and to create a narrative of the protests.) While busy, he is also sorry to be missing the action once the Buddhist monks join the protests, putting the military regime in danger. The video journalists take center stage as their footage is the only available shown worldwide as foreign journalists are banned from Burma. They also advise the monks with the protests. For the first time since 1988, the possibility of democracy and freedom become very real again. In the end, patience becomes key.[/font]
Burma VJ: Reporter i et Lukket Land (Burma VJ: Reporting from a Closed Country) Quotes
There are no approved quotes yet for this movie.