Burn!
(1969)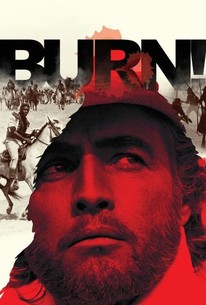 Movie Info
Sir William Walker (Marlon Brando) is the aristocratic secret agent sent by Britain to secure a profitable Portuguese sugar cane plantation for the Crown. When he arrives, he befriends the black dockworker Jose (Evaristo Marquez) and plants revolutionary ideas in his head. Walker talks Jose into robbing a bank and builds him up as a national hero in the process. Teddy Sanchez (Renato Salvatori) is the hotel desk clerk with political aspirations who falls under Walker's spell. The blacks revolt on the night of a festival parade that allows them to be disguised and move around without suspicion. Jose turns his troops over to Teddy, who assumes control of the island. Walker returns to Britain but is summoned ten years later to stop a revolution led by Jose against the now corrupt government headed by Teddy. British troops attack the island and hundreds are killed including Teddy who is executed for treason. The sugar cane crops perish in flames when Jose mounts an attack against the British. When William offers him freedom, Jose refuses by stating "freedom is something you take for yourself." Jose is assassinated and becomes yet another martyr for the cause against colonialism. A drunk and despondent William prepares to leave the island realizing he is just as much a pawn as the men he initially incited to revolt.
Audience Reviews for Burn!
Interesting how much an exclamation point can distinguish a generic title. ...So, yeah, anyways, "Earth was shakin', we stood and stared; when it came, no one was spared! Still, I hear... 'Buuuuuuuuuurrrrrrrrrn!'" Man, that is one seriously long "burn"... with an exclamation point (Aw yeah"!"), kind of like this "Burn!", with an exclamation point. So yeah, this film's title is a whole lot less convoluted than the film's narrative itself, or even the nationality associated with this film, which is Italian and features an American as a Brit inspiring an uprising within a Portuguese colony in the Caribbeans. Shoot, we are talking about Gillo Pontecorvo, the director who, upon taking on this project, had just gotten done with "The Battle Algiers", another ethnically convoluted and, well, somewhat bland film. No, this film is good, and if it didn't reflect Marlon Brando's comfort with working with Italians, he might not have gotten into "The Godfather", although intrigue does find itself shaken up a bit, by more than just pacing issues. The background behind the two leads and a number of their more important peers is lacking in this initially distancingly underdeveloped film, and once you begin to grow accustomed to the narrative by way of gradual characterization, the film, oddly enough, begins to jar focus between the leads and their respective angles in the narrative. It's difficult to get invested in either story branch, because of their uneven juggling's begetting a sense of thinning within characterization, and that somewhat defuses a sense of depth which might compensate for the contrivances within the thematic value of this anti-slavery drama, whose allegory is worthy, but sometimes laid on a little too thick, with all of the thematic imagery and sentimental dramatic atmospherics. Shortcomings in thematic genuineness shine a light on the familiarity of worthy themes, even if this film does go at them from angles that are a little different than what we're used to (South America had some racial issues, same as southern America), and that, in turn, shines a light on the familiarity within most all other aspects of this drama, which is ultimately not much of anything new, not with its character types or plotting tropes. The film follows a worthy path with inspiration, yet not enough flare to go about its business uniquely, or even quickly, because even though the film isn't exactly sprawling, with a runtime of just under two hours and, in the case of the restored version, just over 130 minutes, it is still too long, as I jokingly said earlier, making up for time saved on extensive exposition through repetitive set pieces and meandering filler, if not overly meticulous storytelling. Franco Solinas' and Giorgio Arlorio's script may hurry along in some places, but it drags its feet in too many other, and if nothing else stresses that, then it is Gillo Pontecorvo's steady directorial storytelling, whose very Italian dryness and ponderous pacing are effective in their thoughtfulness, but blanding about as much as anything, and occasionally even dull. Intelligent, adequately nuanced and altogether very competently put-together, the film is always compelling, at least to me, and I'm sure plenty others will be able to overlook the shortcomings better, yet those shortcomings still stand, and firm, shaking up a sense of focus, convincingness, momentum and entertainment value. The film requires a fair bit of patience, and if you can submit it, it ought to be paid off, reinforced by an admirable artistic value. Rather underused and sometimes forgettable in its being either inconsequentially placed or utilized as a supplement to sentimental tonality, Ennio Morricone's score remains excellent, with a combination of beautiful classical sensibilities and lively tribal, if not modernist sensibilities that is refreshing, as well as artistically and, to a certain extent, tonally sharp. Visual style might not be quite as sharp, yet it is more prominently utilized, with art director Piero Gherardi restoring the 19th century Caribbean, South Americas and, at one point, Britain with distinction so realized that it is technically lavish, especially before the dated, but well-lit lensing of cinematographer Marcello Gatti. The artistic value of this film really exposes its Italian background, for the film is nothing if not an aesthetic achievement that delivers on consistently strong style to accompany substance that is not quite as consistent, at least in execution. Themes regarding anti-slavery and political strife within oppressed territories of the 19th century are sometimes laid on thick, yet they are worthwhile through and through, behind a dynamically scaled, human-driven plot which juggles a number of thinly drawn, but promising roles which are sold by a solid cast. Standing out from the cast is the unevenly used Evaristo Márquez, - as a slave who becomes the militant leader of an uprising and a struggling society, and whose must face the burdens that come with such a role - as well as leading man Marlon Brando, whose flawless English accent and even more impeccable charisma bring colorful definition to the William Walker character (Not to be the American filibuster who subscribed to ideas similar to the ones embraced by this Walker), until an exposure of some genuine humanity and subtle layering project the passion in Walker to, not simply fulfill an important mission, but do right by the oppressed. Brando, Márquez and others bring a lot of depth to this occasionally superficial drama, and in all fairness, they have plenty of quality material to work with, for although Franco Solinas' and Giorgio Arlorio's screenplay is uneven and meandering, it offers genuine wit and dramatic edge to all but make up for shortcomings in largely well-defined characterization, just as Gillo Pontecorvo's direction, for all of its occasional contrivances and many dry spells, delivers on tightly staged action, heavy visuals and a slow-burn (Pun not intended) atmosphere that, when backed by realized material, proves to be moving. This film is pretty powerful at times, standing to be more coherent and entertaining, but ultimately managing to compel throughout its course, enough so satisfy on an aesthetic and dramatic level. A touch underdeveloped and uneven, with the occasional lapse into subtlety issues and glaring conventions throughout an overdrawn, ponderously course, the final product is a challenge to one's patience, firmly reinforced by an excellent artistic value deriving from strong score work, art direction and cinematography, and by the worthy subject matter, the strong performances of Marlon Brando and Evaristo Márquez, and the intelligent, generally thoughtful scripted and directorial storytelling which secure Gillo Pontecorvo's "Burn!" (Exclamation point"!") as a rewardingly biting political and human drama. 3/5 - Good
Cameron Johnson
Super Reviewer
½
In "Burn!" Santiago is dead, having been tortured and decapitated by the authorities for being the leader of a rebellion in the Portugese colony of Queimada. That leaves Sir William Walker(Marlon Brando) of the British Admiralty at something of a loss, as he was orchestrating the whole thing. So, he picks Jose Dolores(Evaristo Marquez), a lowly porter, to lead the ex-slaves while he employs Teddy Sanchez(Renato Salvatori) to handle it from another angle. "Burn!" reminds me a lot of the discussions about international development I remember from college(ah, the good old days!), except this movie is a lot more entertaining in detailing how natural resources are more important to colonial powers than human lives, even while paying lip service to human rights. All the while, talk of independence is being manipulated, as control moves from one power to another. Walker may feel that he is above and better than this but he is no different, with more than one master himself. Actually, he is a bigger manipulative bastard than them all. As good as he is at his profession, he cannot control everything, due to some events taking on a life of their own and are bigger and more complicated than mere mortals can handle.
½
Director Gillo Pontecorvo makes a wise choice in his employment of a gritty, bare-bones visual style for this picture. It serves very well to soak up the atmosphere and establish a strong mood. This is a terrific story, and it could have been a great movie, but unfortunately it's hindered by structural problems and some uninspired staging. The most impressive thing about this is, of course, Marlon Brando (who once told Larry King that he considered his work here to be the finest in his career). His character portrait is enrapturing, honest and extravagantly textured. I would rank this among his strongest performances.
Burn! Quotes
There are no approved quotes yet for this movie.