Call Northside 777
(1948)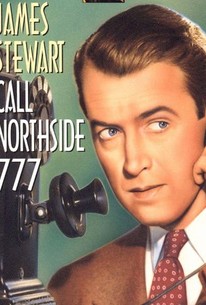 Call Northside 777 Photos
Movie Info
Discovering that a man convicted of a murder over a decade before may in fact be innocent, a Chicago journalist embarks on an investigation in search of the truth. This drama was based upon the true story of journalist Jim McGuire and wrongly convicted prisoner Joe Majczek.
Critic Reviews for Call Northside 777
Audience Reviews for Call Northside 777
½
P.J. McNeal: Aw, look, Frank, it's a big thing when a sovereign state admits an error. But remember this: there aren't many governments in the world that would do it. "It couldn't happen... but it did!" Call Northside 777 is a nice combination of docu-drama/thriller and noir. That isn't to say it's perfect though. In fact, Northside 777 could have been much better. It all feels too calculated and the way the plot moves forward seems much too easy at times. Still, this is entertaining and interesting look at a true story. It's well acted and directed, even if the writing is slightly weak in areas. P.J. McNeal is a reporter for a Chicago newspaper. 11 years earlier, Frank Wiecek was found guilty of shooting and killing a police officer in a speakeasy. His mother, convinced of her sons innocence, has been slaving to put away money to offer as a reward for anyone who is able to find the real killers. McNeal's editor catches wind of it and puts McNeal on the story. He goes into convinced of Wiecek's guilt, but after following all leads, he begins to change his mind. James Stewart is obviously the selling point of this film and does a terrific job. Lee J. Cobb, who I am becoming a big fan of, is also great as the newspaper editor, Brian Kelly. Also, Henry Hathaway's always solid direction makes the film always have flow even as it becomes predictable. I wouldn't call this a must watch, but for fans of this time period of filmmaking, you could do much worse. It isn't a masterpiece, but just a solid film from a talented director and cast.
Melvin White
Super Reviewer
One of the best things about this docu-noir about an innocent man imprisoned is the very believable undercurrent throughout that nobody believes the guy is innocent, not even the reporter (Jimmy Stewart) assigned the case. Well, that and its shot in Chicago. The cast delivers, especially the washerwoman mom of the convicted.
Kevin M. Williams
Super Reviewer
Another fascinating entry into the "docu-realism" noirs of the late 1940's. In it, director Henry Hathaway braids documentary footage with his film to make an interesting blend of fantasy and reality. Much like Dassin's "The Naked City" which focuses on crime in New York, Hathaway's film appears to be a case study of Chicago. Hathaway starts the picture by showing the history of the Windy City as being riddled with crime and corruption. When one policeman is murdered, the newspaper almost comically states "another policeman murdered." Hathaway crafts this scene in such a way that I was having a hard time deciphering what was newsreel footage and what was his film. It is this attention and unflinching commitment to realism & detail in the first act-most masterfully showcased in scenes such as the one involving a lie detector-that take would could easily have been a rather laborious watch and make it quite enjoyable. By gliding from newsroom to newsroom and watching countless minutes of Stewart hammering away on his Underwood Five, Hathaway not only brilliantly keeps with the film's authenticity, but also subtly shows the evolution of the case and the subsequent groundswell of support that it is garnering. Stewart as always, is fantastic. Still oozing the All-American boyish charm that he is known for, but also displaying a hard-lined cynical nature on his brow. Nothing impresses him, nothing amazes him, but he still has an honest eye for justice. And even amid all of his serious journalistic pursuits, he managed to get a few well-earned laughs out of me. Yet, while much of the film's first act works excellently, Hathaway's attempts at realism are soon thwarted by the good nature at the film's core. While Chicago is introduced as being historically amoral, Hathaway suggests that things may be on the upswing. Stewart may be a cynic, but his true colors begin to shine through as the film progresses. (And they are honest & Red, White, and Blue.) He does nothing for selfish gain and truly wants justice to prevail. This attitude appears to be infectious as citizens of the city continually come forth, proclaiming their own desire to see wrongs set right. It all climaxes in a clandestine court room hearing in which Stewart lectures the room on the meaning of lady justice. It is at times like these that the film ceases to be a realistic procedural and starts to feel a bit like "Mr. Smith Takes on the Justice System." Complete with an omniscient narrator telling the viewers "Yes, it's a good world outside." Were this a joint production by Hathaway and Capra, I would totally understand. But until then I will always be wondering what caused Hathaway to take such a sharp right in what was looking to be a very solid film.
Call Northside 777 Quotes
There are no approved quotes yet for this movie.