Chiko
(2008)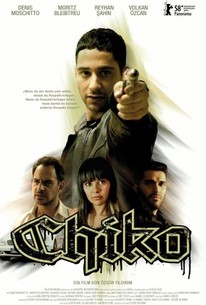 Movie Info
Throwing instead of pulling its punches, this is the story of Isa (as he's actually named, but who finds the nickname Chiko much cooler) who grows up in a Hamburg suburb. It might be one of the world's richest cities but every beast has its belly and here, in the very underbelly, Chiko lives in a world where violence, staking and keeping a claim, and drug taking are the norm. Where down is not an option, Chiko is determined to rise to the top, whatever and whomever it costs. Regardless of time and circumstances, he wants immediate and unlimited respect. And with the means justifying his ends, for Chiko every means is justified.
Audience Reviews for Chiko
½
Possessed of innate street smarts and a dead-eyed stare, Chiko (Denis Moschitto) dreams of success in the drug trade. His chief liability is combustible best "bro" Tibet (Volkan Ozcan), a blustery fighter who can't grasp the big picture. Tibet's mom ...( read more)(Lilay Huser) is undergoing kidney treatments, and the young men chafe at being unable to do more to help her. Setting his sights on a job with violent local drug kingpin and gregarious family man Brownie (Moritz Bleibtreu), Chiko elbows his hapless mule out of the way and earns the formidable task of moving a great deal of weed in a short time. The only caveat: The product must be sold from an apartment, not on the street. When Tibet breaks this rule and is spotted selling at a schoolyard, Brownie's subsequent discipline --a nail in the foot -- drives a wedge between the two friends that rears its ugly head when Chiko becomes Brownie's successful cocaine lieutenant and Tibet sinks into a drug-fuelled anger that manifests itself in revenge.
Chiko Quotes
There are no approved quotes yet for this movie.