Chisum
(1970)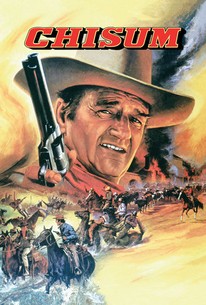 Movie Info
This classic western features (John Wayne) as John Chisum, the tough cattle baron who defends his Lincoln Country ranch from the gang of Lawrence Murphy (Forrest Tucker). When Murphy goes on a land-grabbing rampage, Chisum valiantly defends his territory. A bloody battle for land ensues and Chisum recruits ranch foreman James Pepper (Ben Johnson) to fend off the evil land baron. When Murphy's men kill a trusted friend, Billy The Kid (Geoffrey Duel) and friends go on a shooting spree and kill Murphy's friend, the local sheriff. Soon Pat Garrett (Glenn Corbett) is after the Kid, and Lincoln County is inundated by hails of hot lead. Wayne gives his typical performance as a rugged gunman forced to retaliate when his individual freedom and livelihood are threatened.
Rating:
G
Genre:
,
Directed By:
Written By:
In Theaters:
On DVD:
Runtime:
Studio:
Warner Home Video
Critic Reviews for Chisum
Audience Reviews for Chisum
The candle of the wicked shall be put out. Rich cattle and land owner John Chisum has formed a brotherhood with an Indian chief, White Buffalo. A general arrives and pushes the envelope that causes a land war to ensue. Chisum will have shootouts versus legal and illegal stakeholders. He will seek the aid of Pat Garrett and Billy the Kid to put those ruining his land and town down. "Thank you for asking me to come and stay with you." "I didn't ask you..." Andrew McLaglen, director of Return from the River Kwai, Have Gun - Will Travel, McLintock, The Wild Geese, The Sea Wolves, and Shenandoah, delivers Chisum. The storyline for this picture is very interesting and weaves nicely with historical characters. The acting and action also isn't half bad and the cast includes John Wayne, Forrest Tucker, Bruce Cabot, Glenn Corbett, and Robert Donner. "Don't ever get arrested." "I don't intend to." I came across this picture on Turner Classic Movies (TCM) and decided to DVR it. This was a Wayne masterpiece with charismatic characters, witty one-liners, and great shootouts. This is a classic western that is worth a viewing and worth adding to your collection if you are a fan of the genre. "I've heard of you." Grade: B
Kevin Robbins
65/100. One of the few films the Duke made that was based on true events. Its nowhere near his top films, but the film itself is solid and has enough memorable moments to separate itself from Wayne's later westerns. Although having his character's name in the title, the movie actually plays out as an ensemble giving equal time to Pat Garrett and William Bonney, better known as Billy the Kid. However, Corbett and Deuel were mediocre and unable to pull their own weight in scenes with Wayne. On the flip side, Christopher George played a good, villainous gun-for-hire while Ben Johnson gave one of his best supporting performances that I've seen out of him. Has a pleasant amount of humor with a good final shoot out and a catchy, yet borderline annoying theme song. The film is carried down with a strikingly large cast for a sub two hour movie, but has a number of memorable moments.
Zack Butson
½
The best of the John Wayne westerns directed by Andrew V. McLagden, this sprawling epic centers around the revenge sought by Billy the Kid after his mentor is murder by the corrupt, land-grabbing bad guys. These scenes looked familiar since I last watched 1988's Young Guns.
Dean McKenna
Super Reviewer
Chisum Quotes
There are no approved quotes yet for this movie.