The City of Violence (Jjakpae)
(2006)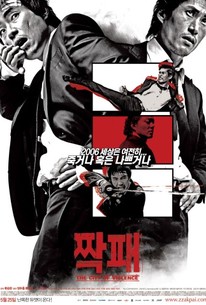 The City of Violence (Jjakpae) Photos
Movie Info
Martial-arts pro Jeong Du-hong stars as Jeong Tae-su in notorious Korean action director Ryoo Seung-wan's The City of Violence (aka Jakpae). A former punk and brawler-turned-police detective, Tae-su returns to his hometown for the funeral of a buddy, Wang-jae (Ahn Gil-gang). Once there, he reconnects with members of the "old gang," including the tough but loyal fighter Ryoo Seok-hwan (played by the director) and the gang leader, Jang Pil-ho. Tae-su suspects foul play in Wang-jae's death, and instinctively ties it to Pil-ho, now a scuzzy slimeball with a massive inferiority complex and hordes of armed men. His instincts, it seems, are correct -- Pil-ho indeed had Wang-jae rubbed out. Thus, Tae-su and Seok-hwan ultimately take on Pil-ho at an abandoned Korean restaurant, fighting myriads of his henchmen with bare knuckles, blades, and Korean martial arts, and accompanied by a rousing Leone-style score.
Critic Reviews for The City of Violence (Jjakpae)
Audience Reviews for The City of Violence (Jjakpae)
[img]http://images.rottentomatoes.com/images/user/icons/icon14.gif[/img]
Directors Cat
Super Reviewer
½
A Seoul cop returns to his hometown for the funeral of a boyhood friend but when he finds that one of their own is responsible, the remaining two friends unite and declare war on those responsible. City Of Violence looks like a gangster thriller on the surface, but its lack of depth and grittiness in the story and characterisation, combined with virtually non-stop fight sequences mean it is actually a pure martial arts film. The narrative is a little too reliant on montages and flashbacks, and we know little about the characters apart from the fact that they look cool and are hard as nails. The action is actually brilliantly handled and the direction is very stylish, the final showdown (which is very similar to that of Kill Bill Volume 1) in particular is supremely exciting and well done. The emaciated script means it will never win any awards for high drama, but its a fun ride for those who enjoy slickly choreographed, bone-crunching martial arts mayhem.
What seems like it may be a cross between Stand By Me and any number of revenge films underminds itself by being too lighthearted. A serious plot and wonderfully characterised friendships are ruined by the music video style editing. The fight scenes are spectacular but don't make too much sense, which wouldn't matter in a balls out action flick. The film is short and considering the last 20 minutes is an epic showdown the story moves fast and furiously. Of course like so many martial arts films it's a good job everyone knows martial arts or the fights would be dull. Very entertaining and certainly worth a watch.
Luke Baldock
Super Reviewer
The City of Violence (Jjakpae) Quotes
There are no approved quotes yet for this movie.