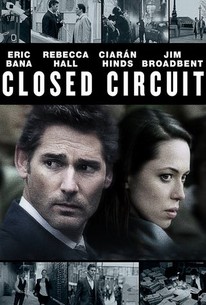 Closed Circuit
2013, Mystery & thriller, 1h 36m
135 Reviews
10,000+ Ratings
What to know
critics consensus
Slick and well acted, Closed Circuit unfortunately never quite works up a full head of steam, with a plot that's alternately predictable and full of holes. Read critic reviews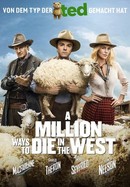 A Million Ways to Die in the West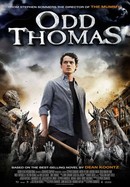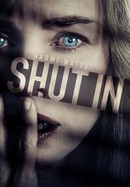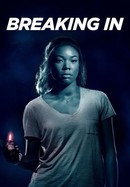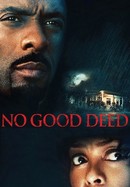 Where to watch
Rent/buy
Rent/buy
Rent/buy
Rate And Review
Movie Info
A terrorist attack in London results in the capture of suspect Farroukh Erdogan (Denis Moschitto). The attorney general appoints Claudia Simmons-Howe (Rebecca Hall) as special advocate on Erdogan's legal team. On the eve of the trial, Erdogan's lawyer dies, and a new defense attorney, Martin Rose (Eric Bana), steps in. Martin and Claudia are former lovers, a fact which must remain hidden. As Martin assembles his case, he uncovers a sinister conspiracy, placing him and Claudia in danger.
News & Interviews for Closed Circuit
Audience Reviews for Closed Circuit
I had a mixed reaction to the film. The film seemed a little predictable. I was also questioning their casting choices. What bugged me the most was that the film felt like a TV show and not a movie. It kind of reminded me of movies like Primal Fear, Class Action, The International, The Firm, just to name a few. Eric Bana was ok, but I thought that Clive Owen would have been better in the role. With Rebecca Hall, she was also ok, but thought that Rosmand Pike would have been better in that role. I didn't think that Bana and Hall had a good on screen chemistry. Jim Broadbent was a bit over the top in some scenes. The best one in my opinion was Julia Stiles. She steals the film and she is in a few scenes. She also seems like she doesn't fit with the rest of the cast.

Intermittently compelling and also predictable, Closed Circuit is the sort of thriller that you want to really like, often do, and yet can't help but be underwhelmed by. The film pits two ex-lovers with each other on a defense team for an accused mastermind bomber, though technically barred from communicating with one-another, on account of National Security interests. It's an interesting premise, yet one that never seems to reach its full potential. What Closed Circuit did well was create the sort of hyper-aware state of tension we are in the West, especially true of the incredibly surveilled city of London. The backdrop of this makes Closed Circuit feel timely, with a fair amount of paranoia. Director John Crowley did a good job using this paranoia to fuel the tension on screen, heightening the stakes appropriately. I also appreciated the legal framework for which the film is set in, exploring the Orwellian system that has both "secret evidence" and "fairness". The performances are also strong, with the underrated Eric Bana having a fair amount of chemistry with Rebecca Hall. Where Closed Circuit fails, or at least underachieves, is in its climax and resolution. We see the beats before they occur, with the ending having a curiously ambiguous tone. The film seemed to lack a daring sensibility to it, almost appearing critical of its subject, yet never fully thrusting itself in to it. Instead, it opted for an easier avenue, with predictable outcomes and bland commentary. 3/5 Stars

They see your every move. Good Film! Closed Circuit is a good, although unexceptional, suspense movie. The movie has a strong start but a weak finale, and somewhere in the middle looses stream and starts plodding along to its inevitable conclusion. The story itself tests the limits of plausibility and features principal characters who have little warmth and fail to generate much empathy. The question of government duplicity is treated in an unimaginative manner and fails to generate any sense of concern or outrage. Yet the movie does entertain by generating a certain level of tension, albeit watered down. The question of cover up sustains the story and adds an element of tension. Yet there are no heroes which makes the ending anticlimactic. That certain scenes are set at a football game is unoriginal. Further, the alleged victim of a miscarriage of justice is hardly worthy of empathy and the same goes for his family, especially the fourteen year old son who belongs in juvenile detention. The acting is cheesy, the cinematography unspectacular, the story twists and turns predictable and the movie theme muddled. Yet, this movie should be watched because it dramatizes what happens when the truth is suppressed and transparency is discarded in favor of secrecy. A high-profile terrorism case unexpectedly binds together two ex-lovers on the defense team - testing the limits of their loyalties and placing their lives in jeopardy.

This British-American crime thriller directed by John Crowley and written by Steven Knight, stars Eric Bana, Rebecca Hall, Ciarán Hinds, Jim Broadbent, and Riz Ahmed. It was a story which in the subtitle had the words "they see your every move" - and that paranoia was present in every scene, even when there was no reason for it. Don't get me wrong, as an Australian, I do not trust any government, and I know what the individuals could be capable of - if given a chance... but some of the conspiracy holes in this story were just too much to bare. The film opens with a crowded London market (Borough market) being destroyed through an explosive terrorist attack. Farroukh Erdogan is detained as the primary suspect and mastermind of the attack while his two alleged co-conspirators are killed in attempts to apprehend them. Lawyers Martin Rose and Claudia Simmons-Howe are selected by the British Attorney General to represent Farroukh in court after the previous lawyer fell off a roof. The two lawyers secretly had an affair in the past, which became known to Martin's wife and has caused an alienation from her and their son. Due to the classified nature of the sources in the trial, the trial is split into two divisions. Claudia will represent Farroukh in closed hearings to attempt to determine which classified pieces of information are required for his defense. Martin will represent him in the open trial using information allowed by the closed hearings. The two lawyers are not allowed to contact one another. In the beginning the story was built carefully and we will soon find out why the couple was chosen for this "assignment". This was an interesting viewing for an episode of a TV show, but the lack of chemistry between Eric Bana and Rebecca Hall was so obvious that was impossible to stand at the moments. Eric Bana was a great comedian at his early Australian years, but since he went to the United States, I could not remember one role which could stand out! The directing was too predictable and simply boring. Safe, unchallenging and very low key. This was an opportunity which was squandered because of the directing and screenplay, and the wrong casting... too many things for one movie.
See Details