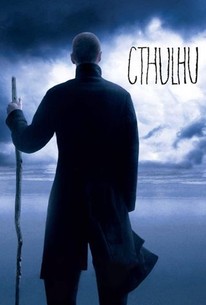 Cthulhu
2008, Horror/Lgbtq+, 1h 49m
13 Reviews
500+ Ratings
Rate And Review
Movie Info
A Seattle history professor (Jason Cottle) encounters deadly cultists when he returns to his hometown to settle his late mother's estate.
Rating: R (Violence|Language|Some Sexuality|Nudity)

Genre: Horror, Lgbtq+

Original Language: English

Director: Dan Gildark

Writer: Grant Cogswell, Jason Cottle

Release Date (Theaters): limited

Release Date (Streaming):

Box Office (Gross USA): $15.2K

Runtime:

Distributor: Regent Releasing

Production Co: Arkham Northwest Productions, Cascadia Film Collective
Audience Reviews for Cthulhu
Confusing with bad acting... Actors are repulsive, absolutely dreadful

Cthulhu is a derivation of the H.P. Lovecraft mythos with gay thematic material and Tori Spelling as a rapist. There aren't enough words in the English language to adequately express my disappointment that this isn't the brilliance that its premise suggested. In fact, it's desperate shit, a disastrously acted and overwritten mess. The movie first suffers a mortal aesthetic blow through its awful use of lighting and filters, making it unpleasant to even look at. Lighting is not difficult even on a microbudget but the poor execution here just reveals the film as an amateur effort. The lousy acting makes it even more difficult to watch. Jason Cottle promises decency, but half an hour into the film he completely loses sight of his character. By the end of the film you really have no idea who Russell Marsh is, besides an angry gay history professor who looks like an aged porn star. Childhood friend and paramour Mike turns in a fair performance, but he's only around when the movie is lost and needs somewhere to go, and his pivotal role in the ending is cheapened as a result. Everyone else is uniformly terrible, except for Spelling herself, who decides to play her part as camp with disastrous but compulsively watchable results. She doesn't fit in with the po-faced seriousness of the rest of the film, but since I'd totally lost interest by the time she showed up I was thankful for her. There are times where Cthulhu actually threatened to be interesting; they found a good location to shoot it in, full of lush cinematic landscapes. If they hadn't gone so filter-crazy the movie would actually look pretty good. And come on, the concept is just bursting with promise. Homosexuality and alienation in an oppressive cultist hamlet would have provided more than adequate dramatic fuel for the film. Unfortunately, Cthulhu leaves little to the viewer's imagination. It shoots its thematic load within twenty minutes of the movie at an embarrassingly obvious dinner scene and essentially abandons the homosexuality's link to the narrative at large. Past that, any gay activity just becomes some pornographic bid at luring in a specific demographic. I'm not entirely sure who they were trying to reach with this film (besides, um, me), but this is cheap and blatant pandering. Do you want to know something depressing? The writer and producer sold his house and everything he owned to make this film. This dumb, amateurish, dead-in-the-water piece of dross singlehandedly ended a man's livelihood. I'm sure it feels liberating in a way to throw caution to the wind and pour yourself into a creative endeavor like that, but with Cthulhu as the result, I'm sure his regrets are immeasurable. I really wanted for this film to succeed and be awesome, but it's borderline unwatchable. Someday a good Lovecraft film will be made. Maybe.
See Details