Cthulhu
(2008)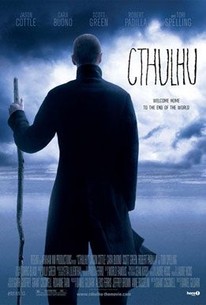 Movie Info
Inspired by the works of celebrated horror fiction author H.P. Lovecraft, this apocalyptic frightener tells the story of a Seattle history professor who becomes caught up in a frightful and rapidly accelerating series of strange events after returning to his estranged family on the Oregon coast and discovering that his father is involved with a bizarre New Age cult. Upon returning home to execute his late mother's will, the professor enters into a long-awaited affair with his beautiful best friend from childhood. Later, the professor uncovers evidence that the members of his father's cult are anticipating a large-scale event that will forever alter the way humankind views the universe.
Critic Reviews for Cthulhu
Audience Reviews for Cthulhu
½
Essentially a loose adaptation of H.P. Lovecraft's "The Shadow over Innsmouth" with some homages to John Carpenter's Lovecraftian "In the Mouth of Madness," Dan Gildark's "Cthulhu" suffers from some sub-par acting and budget constraints, but it more than makes up for its flaws by not only bringing Lovecraft's mythos into the postmodern world but also by drawing provocative parallels between small-town homophobia and the absurd, lurking horrors of the old ones. It is truly Lovecraftian in a way that few films have managed to pull off, but it also manages to be an effective drama about dealing with the traumas of the past and coming to understand ourselves in the present. Moody and creepy, Cthulhu is powerful and original independent filmmaking that for some reason also features Tori Spelling....
Al Miller
Cthulhu (Dan Gildark, 2007) Cthulhu, Dan Gildark's expressive, delicious supernatural drama, suffers from the same mismarketing that most supernatural dramas do. This is not entirely unexpected, considering the supernatural drama is, these days, almost exclusively a Southeast Asian genre, and when similarly exceptional Asian films find their way over here, they are usually mismarketed as horror as well. (Case in point: Soo-youn Lee's The Uninvited, one of the greatest Korean films ever made, widely panned for ânot being scary enough.â?) I admit, Gildark probably brought some of it on himself by tapping into the Lovecraftian mythos, but really, kiddies, if you pick up anything even remotely Lovecraft-related and expect a Roger Corman (or, worse, a Brian Yuzna) movie, you're going to be disappointed by, well, every good attempt at Lovecraft that's ever been committed to screenâ"and this one is very good indeed. Loosely (very loosely) based on âThe Shadow Over Innsmouthâ?, Cthulhu is the story of Russell Marsh (The Wedding Singer's Jason Cottle), a history professor who returns to the family pile in Oregon to execute his mother's will after her death. While there, Russell reconnects with Mike (My Own Private Idaho's Scott Patrick Green), a lover from his past, and the two of them pick up where they left off after some false starts. But the longer Russell stays in town, the more he becomes convinced that his father (The Cutter's Dennis Kleinsmith), whose âchurchâ? seems more and more like a crazy end-of-the-world cult, is actually capable of bringing about the end of the world. Andrew Kasch at Dread Central says of the film that it âplays out like 'Shadow Over Innsmouth' re-imagined by Kiyoshi Kurosawaâ?, and that's a fine way of putting it indeed. The gay angleâ"which sent such a number of reviewers (and even more IMDB commenters) into such knee-jerk tizzy fitsâ"makes absolute sense; about the only better method of showing âoutsiderâ? on screen would be setting the movie in a Klan-controlled area of the deep south and making your protagonist black, though that would be difficult given the movie's stress on the importance of family ties. And let's face it, this is a movie about relationshipsâ"specifically Russell's relationships with Mike and his fatherâ"so both the film's gay angle and its less-than-charitable attitude towards religion are going to be front and center here. If that bothers you, this is not the movie you want to rent tonight. On the other hand, if you're looking for a movie with a script written by someone who actually seems to understand the ins and outs of human relationships and does a damned fine job at injecting the supernatural into them, this is exactly the film you want to rent tonight. Kasch goes on to call this the closest to an actual H. P. Lovecraft adaptation we've ever had on celluloid (though not so floridly). I'll put it this way: in the literary world, there are two types of writers who are influenced by Lovecraft. The first batch are those who thought, âoh, cool! Monsters!â?, and went on to write Lovecraft-inspired fiction that focused on, yes, the monstersâ"August Derleth, Lin Carter, and that crowd are all well-known to Lovecraft fans. The second, much smaller, group were influenced not so much by the monsters, but by Lovecraft's writing styleâ"the atmosphere, the word choice, the diction, all of which worked together to inspire far more of the dread one feels reading a Lovecraft story than the few glimpses of tentacle. The best examples I can come up with off the top of my head would be Thomas Ligotti, Fred Chappell, and Steve Rasnic Tem. Think of Corman, Yuzna, and that crowd as the Lin Carters of Lovecraftian film. Dan Gildark is very much in the Ligotti/Chappell/Tem camp, and just as those books are more rewarding experiences, so is this excellent film. ****
Robert Beveridge
½
Confusing with bad acting... Actors are repulsive, absolutely dreadful
Sylvester Kuo
Super Reviewer
Cthulhu Quotes
There are no approved quotes yet for this movie.
Discussion Forum
Discuss Cthulhu on our Movie forum!