The Devonsville Terror
(1983)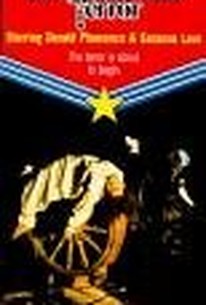 AUDIENCE SCORE
Critic Consensus: No consensus yet.
The Devonsville Terror Photos
Movie Info
Ulli Lommel's atmospheric chiller opens with a violent prologue in the 17th-century Colonial town of Devonsville, where a trio of local women are accused of witchcraft by the zealous locals and executed in gory fashion by pitchfork-wielding vigilantes. Flash forward to the present, where the arrival of three progressive young women ignites the same superstitious paranoia among the current generation of townsfolk -- who perceive their new visitors' arrival as the culmination of an ages-old curse. The pretty new schoolteacher (Suzanna Love), plagued by ominous visions, consults the local psychiatrist (Donald Pleasence), whose hypnotic regression therapy reveals the true nature of her ancestry -- which finally surfaces when a new group of vigilantes begins the inevitable witch-hunt. Moody and well-photographed (Lommel once studied under legendary German auteur (Rainier Werner Fassbinder), this film tends to cloud its basically feminist theme with some rather exploitative gross-out effects -- particularly the depiction of Pleasence's ancestral curse, which has him constantly digging tiny worms from various parts of his body.
Rating:
R
Genre:
Directed By:
Written By:
In Theaters:
Runtime:
Studio:
Motion Picture Marketing
Audience Reviews for The Devonsville Terror
½
Has a cool autumn New England-y tone but is too goofy to be taken seriously. Campy as heck and features a weird performance from Paul Wilson, who is best known for being one of the bar patrons on Cheers.
Rodney Eckrich
½
[IMG]http://i18.photobucket.com/albums/b106/hereinmyhead/6305307172.jpg[/IMG] [COLOR=Magenta]Now here are some cheesy low budget horror films that I sort of like. Let me say I really liked The Boogeyman as a kid. I remember seeing it at the drive in more than once. Both of these flicks are directed by Ulli Lommell and starring Suzanna Love. The Boogeyman borrows heavily from many horror films. Films such as Halloween. The Exorcist. and others are blatantly ripped off. Does this destroy the viewing pleasure. Hell no!! Hey it is the tale of a possessed mirror that causes some deliciously gory deaths. The Devonsville Terror is a slow moving thriller. Great story concerns the town of Devonsville where 300 years earlier witches were born. One of those witches meant serious business and cursed the town. Plot holes galore but I am a sucker for a good witch film. Because when the fanatics try to have another witchburning all hell breaks loose. Again some pretty cool death scenes with an appearance by Dr. Loomis himself Donald Pleasance. Both of these are for fans of horror especially 80's horror![/COLOR]
Randy Emerson
The Devonsville Terror Quotes
There are no approved quotes yet for this movie.