The Dirty Dozen
(1967)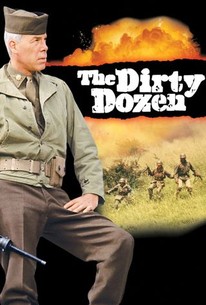 Movie Info
Director Robert Aldrich took what he considered a hopelessly old-fashioned script by Lukas Heller and Nunnally Johnson and fashioned The Dirty Dozen into one of MGM's biggest moneymakers of the 1960s--and the sixth highest-grossing film in the studio's history. Lee Marvin plays Major Reisman, assigned to coordinate a suicide mission on a French chateau held by top Nazi officers. Since no "normal" GI can be expected to volunteer for this mission, Reisman is compelled to draw his personnel from a group of military prisoners serving life sentences. This "dirty dozen" includes a sex pervert (Telly Savalas), a psycho (John Cassavetes), a retarded killer (Donald Sutherland), and the equally malevolent Charles Bronson, Trini Lopez, Jim Brown, and Clint Walker. On the dim promise of receiving pardons if they survive, the criminals undergo a brutal training program, then are marched behind enemy lines dressed as Nazi soldiers, the better to overtake the chateau and kill everyone in it--including the innocent wives and mistresses of the German officers. ~ Hal Erickson, Rovi
News & Interviews for The Dirty Dozen
Critic Reviews for The Dirty Dozen
Audience Reviews for The Dirty Dozen
½
In the 1960's and 1970's so many action films have grace the big screen, providing some truly classic and thrilling moments for the viewer. With an all star cast, director Robert Aldrich crafts a thrilling and exciting action picture that delivers some stunning performances, thrills, humor and memorable action that not even today's action flicks can top. The cast here is brilliant and each brings something to the screen that makes this such a great film. As an action film, The Dirty Dozen ranks as a classic of the genre. The pacing of the film is good and lets the action steadily build up to a killer climax. As far as classic action films are concerned, you have got to see The Dirty Dozen. This is a fun, entertaining film that should please either action fans or war film fans, even though this is not a straight forward war film. Richard Aldrich directs a solid piece of cinematic intensity that will certainly appeal to die hard action fans. This is action to its bare bones, with no fancy special effects, and that's why it is a terrific flick to watch. Brilliant and well acted this is a solid entertaining classic that still is fun to watch even today. The actors chosen play their parts well, and each shine on-screen. Lee Marvin is terrific in the lead role as the Major who commands the Dirty Dozen. Little flaws, but you don't care because this is a nonstop testosterone driven action picture that has great performances, and enough thrills to satisfy the most demanding viewer.
EightThirty .
Super Reviewer
½
Major John Reisman: You know what to do, feed the French and shoot the Germans!  "Train them! Excite them! Arm them!... Then turn them loose on the Nazis!" The Dirty Dozen is one of the more interesting war films I have seen. It's madly serious, while being wildly silly. I can't help but compare this to a later film Robert Aldrich would direct, which wouldn't seem comparable; that being The Longest Yard. Both of these movies involve a leader having to train inadequate men to be great in order to beat the enemy. Here it is more serious, because it is a matter of life and death. But it is cool to see that Aldrich used basically the same formula for a football movie a little later in his career. The Dirty Dozen has a reputation as a guys film, and it is easy to see why. There's not a whole lot of femininity going on here. It's a lot of guns, tough talk, and fighting. It also has a reputation as being a fun film, which many war movies can't say. And this is a pretty fun movie. The characters, except for one notable exception, are easy to like. The cast shines.  And most notably, you have to love the ironic way the Americans kill the Nazis. There is a long line of these kill the Nazi movies. Of all of them I have seen this is probably my favorite, but I haven't watched Inglorious Basterds in awhile.  The story is about Major Reisman who is assigned a crap job. He must train convicted murderers, many of whom are going to be hanged, for a secret Nazi assassination mission. Most of the movie takes place in the training facility, where the Major must bring his men together. The film isn't all shoot em up, but the last 30 minutes or so are not lacking in suspense and action.  I guess the performances in this film is what sets it apart from other films of this genre. Lee Marvin as Reisman exerts a tough and excellent performance. It helps when you're backed up by Donald Sutherland, Jim Brown, Charles Bronson, Telly Salvalas, and John Cassavetes. The other actors whom I don't recognize are pretty good at bringing out the most in their characters as well. The Dirty Dozen is one of those must see movies. It is deservedly classified as a landmark film and the fact that it has held up so well to this point is a testament to Aldrich's terrific direction.  Joseph T. Wladislaw: Killin' generals could get to be a habit with me. 
Melvin White
Super Reviewer
The Dirty Dozen Quotes
| | |
| --- | --- |
| Joseph Wladislaw: | I wish I could read this. I think it's dirty. |
| | |
| --- | --- |
| Maj. Reisman: | Any questions? |
| Archer Maggott: | Suh? Do we have to eat with niggahs? [Jefferson jumps Maggot] |
| Sgt. Bowren: | [as Reisman exits the room] : What's going on, sir? |
| Maj. Reisman: | Oh, the gentleman from the South had a question about the dining arrangements. He and his comrades are discussing place settings now. |
| | |
| --- | --- |
| Maj. Reisman: | Any questions? |
| | |
| --- | --- |
| Maj. Reisman: | You know what to do, feed the French and shoot the Germans! |
Discussion Forum
Discuss The Dirty Dozen on our Movie forum!