Disobedience
(2018)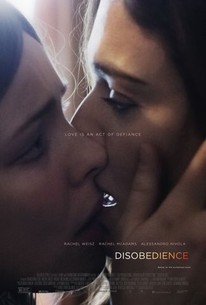 TOMATOMETER
AUDIENCE SCORE
Critic Consensus: Disobedience explores a variety of thought-provoking themes, bolstered by gripping work from leads Rachel Weisz, Rachel McAdams, and Alessandro Nivola.
Movie Info
From Sebastián Lelio, the director of the Academy Award-winning A Fantastic Woman, the film follows a woman as she returns to the community that shunned her decades earlier for an attraction to a childhood friend. Once back, their passions reignite as they explore the boundaries of faith and sexuality. Written by Lelio and Rebecca Lenkiewicz and based on Naomi Alderman's book, the film stars Rachel Weisz, Rachel McAdams and Alessandro Nivola.
News & Interviews for Disobedience
Critic Reviews for Disobedience
Audience Reviews for Disobedience
½
SHEBREWS - My Review of DISOBEDIENCE (2 1/2 Stars) Chilean-born writer/director Sebastián Lelio won the Oscar this year for Foreign Language Film with A FANTASTIC WOMAN. His follow-up, DISOBEDIENCE, co-written by the brilliant Rebecca Lenkiewicz (IDA) based on the novel by Naomi Alderman, has pedigree to spare and a talented cast at the top of their game, but it won't win any Oscars and while somewhat absorbing and well-intentioned, comes across as a disjointed, flat, long slog. Set in the Orthodox Jewish community of London, the film tells the story of successful photographer Ronit (Rachel Weisz), a prodigal daughter returning from New York for her Rabbi father's funeral. Her boozy, bender of a lifestyle contrasts sharply with the people she reconnects with upon her return. It's apparent right away that Ronit wears the "Outcast" label, but unless you've studied the movie poster or saw the trailer, it's not clear why just yet. Straight from the airport, she lands on the doorstep of childhood friends Dovid (Alessandro Nivola), next in line for the Rabbi position, and his wife Esti (Rachel McAdams), who wears the wig and adheres to the strict rules of a woman in this religious environment. The tension between the three slowly bears out the fact that Ronit and Esti have been in love with each other in the past. How Ronit, Esti and David navigate this complicated love triangle and reconcile their actions and feelings with their faith (or lack thereof) constitutes the overall story of the film. It's a tale worth telling, and I cannot find fault with the three leads. Weisz commands attention just by smoking a cigarette or taking on a community (especially during a tense dinner scene) who struggle offering her a place in their world. Nivola has an impressive stillness to his performance, slowly revealing depth, warmth, and yet the air of entitlement men feel when they hold all the cards. At times he gave me Mandy Patinkin in YENTL vibes. Most of all, McAdams delivers a stunning, brutal performance as a woman who aims to please everyone around her but herself. Her scenes with Weisz crackle with repressed sexual tension especially an honest, raw sex scene, yet you also understand why she's drawn to her husband, who often leads with a direct and tender kindness. It's rich complicated stuff, but it's all in service of an overly long, maudlin, listless flatline of a film. What should be riveting feels like a General Foods International Coffee commercial, with its endlessly shallow depth of field cinematography by Danny Cohen (LES MISERABLES, THE KING'S SPEECH, ROOM), who has built a recent resume around films with too many close-ups. He knows how to create pretty images, but man, pull back every now and then, please! Despite its excessive running time, I also found the storytelling to be disjointed at best. It took a while to sort out how the three principals knew each other, and certain sections felt like they were missing scenes that would have better clarified things a bit better. It's ridiculously extended final act, in particular, kept going and going, with one annoying scene after another, searching for and eventually finding an appropriate ending. I couldn't wait for it to end, yet I still appreciate its exploration of a little seen world, and one presented with such committed performances. All told, I'm gonna quote my late Jewish grandmother with her one word critique of all things she disliked: "Feh!"
Glenn Gaylord
Super Reviewer
Disobedience Quotes
There are no approved quotes yet for this movie.