Disobedience
(2018)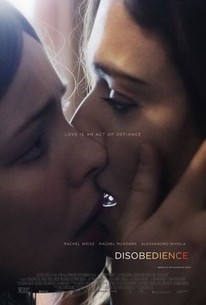 TOMATOMETER
AUDIENCE SCORE
Critic Consensus: Disobedience explores a variety of thought-provoking themes, bolstered by gripping work from leads Rachel Weisz, Rachel McAdams, and Alessandro Nivola.
Movie Info
From Sebastián Lelio, the director of the Academy Award-winning A Fantastic Woman, the film follows a woman as she returns to the community that shunned her decades earlier for an attraction to a childhood friend. Once back, their passions reignite as they explore the boundaries of faith and sexuality. Written by Lelio and Rebecca Lenkiewicz and based on Naomi Alderman's book, the film stars Rachel Weisz, Rachel McAdams and Alessandro Nivola.
News & Interviews for Disobedience
Critic Reviews for Disobedience
Audience Reviews for Disobedience
½
A delicate balancing act between the confines that hold together the sense of balance in our lives and the desires that sometimes rub up against them forcing the mind to contemplate what is worth following: the rules or our hearts. This is more complex than we might imagine when young and more ambitiously optimistic as we know the rules we set for ourselves, these things that keep order in our lives, are typically for our benefit. With Disobedience, Sebastián Lelio (Gloria, A Fantastic Woman) guides a young woman (played beautifully by Rachel McAdams) through this life she feels a genuine affection for and having to choose between it and the life she knows is true to who she's always been. It's all rather heartbreaking.
Philip Price
Super Reviewer
½
Aside from being the first in line to see the next blockbuster or superhero film, I really enjoy going to see movies that show you a different side of life. Whether that be a post-apocalyptic wasteland, a medieval love story, or an inner city crime drama, movies have a way of shaping the world through different eyes and impacting your viewpoint on things for the better. Disobedience is a nice example of a film that displays a forbidden but passionate love story from a fascinating point of view, the religious angle. I no longer consider myself an overtly religious person, but if done right, the stories that derive from that of faith are certainly interesting to watch. And in Disobedience, religion is at the forefront without being overpowering. Rachel McAdams and Rachel Weisz play Esti and Ronit respectively, two lovers who find themselves back in the same town after the ladder was essentially exiled for being in love with Esti as a young woman. It's these performances, along with Alessandro Nivola as Dovid that bolster this deep drama with humanity and heart. What each of the trio goes through individually is incredibly powerful, especially when you come to realize the emotional stakes that become involved as the film near its end. I found Disobedience to be an extremely thought provoking and unique take on a romance. 7.8/10
Thomas Drufke
Super Reviewer
With this kind of star power, I could foresee Jewish lesbian romance genre film taking off in a big way. We aren't talking Blue is the Warmest Color levels of explicit erotic entertainment, but one could easily expect to see an uptick in Pornhub's search trends for the lead actresses' titillating scenes that lie herein. Yes, you get to see Rachel Weisz and Rachel McAdams break kosher without a sheet, but just like similar forbidden love stories like Brokeback Mountain, Carol, or Howard the Duck, the movie is much more than the sum of its private parts. Set in a very insular Orthodox Jewish community in London, Ronit (Weisz) returns to mourn the passing of her father, one of the most prominent Rabbis of her childhood home. As in many cases, her traditionalist extended family and the people that surrounded her father are all a bit shocked and perturbed by her arrival after she had made a clean break from her upbringing and culture years before. Her mere presence is insulting to some and welcomed by those who cared the most for her, namely Esti (McAdams), a former love interest who has married straight despite her homosexual leanings. Many awkward pauses and loaded looks ensue. Director Sebastian Lelio is no stranger to the clash between alternate lifestyles and how they play out in conservative family dynamics. After winning Best Foreign Picture at the Oscars last year for A Fantastic Woman, this seems a perfectly serviceable next step. Considering Lelio's Chilean (and presumably Catholic) background, the director does a fantastic job of inhabiting the liturgy and community of a culture and religion he hasn't lived within. Doubly surprising is how in both this and A Fantastic Woman he can help bring to life characters who do not fit into rigid social constructs and portray them in a tasteful, multifaceted way. Conceivably, one could place this story in the context of any other religious group. Aside from the candlesticks and hats, this could be a Mormon, Amish, or Southern Baptist group and they probably wouldn't miss a beat seeing as how most of the prevailing tenets of those faiths are predicated on a tradition that assumes it has what is best for family and culture yet fails to account for the ways of the world and how the moral zeitgeist shifts. You can't really pick up a book and prescribe to everyone a behavior set that goes against their basic biology, but when all you know, see, and have is structured around that book, is there really any free will for HaShem to judge you by?
K Nife Churchkey
Super Reviewer
Disobedience Quotes
There are no approved quotes yet for this movie.