Down Terrace
(2010)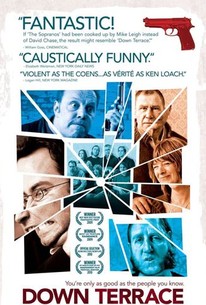 Movie Info
Father and son Bill and Karl (real life father and son Bob and Robin Hill) have just been released from jail free and clear, but all is not well at Down Terrace. Patriarchs of a small crime family, their business is plagued with infighting. Karl has had more than he can take of his old man's philosophizing and preaching, and Bill thinks Karl's dedication to the family is seriously compromised when he takes up with an estranged girlfriend who claims to be carrying his baby. To make matters worse, there's an unidentified informant in their midst that could send them all to prison for a very long time, and none of their associates can be trusted. -- (C) Magnolia
News & Interviews for Down Terrace
Critic Reviews for Down Terrace
Audience Reviews for Down Terrace
Sour people and places, slapstick serial killing and reality organised crime, with a streak of hippy and folk culture, plus some charming music. An excellent ensemble cast delivers this portrait of the English criminal class, who look and sound just like anyone else you might meet in the average neighbourhood. It takes a while, but not all that long, to see them as they really are. The film is also a finely constructed, if blunt, allegory for the passage of time, the rise and fall of power, and generational change. It is delivered with sophisticated English wit, and plenty of laughs.
½
Superb, tiny budgeted film shot in sequence in one week. The performances are natural and engaging, the film looks fantastic (DP Laurie Rose is a master) and is wonderfully edited. Blackly funny and thrilling with an edge of harsh violence.
Daniel Parsons
Super Reviewer
½
"Down Terrace" starts with Karl(Robin Hill) being released from prison and returning to his parents'(Robert Hall & Julia Deakin) home to help out in the family business of selling illegal drugs. While there, Garvey(Tony Way) welcomes him back with a cold one. And Valda(Kerry Peacock), a pen pal, has a little surprise for him... To be honest, I do not really know what to do with "Down Terrace." It could be a comedy, but it's not really funny and mostly people just sit around the house doing nothing. Okay, so maybe it is a kitchen sink drama about the perils of family but then it is hard to take seriously with the odd turns the plot takes. To quote Batman, criminals are a cowardly and superstitious lot and if they also use their own product, like they do here, a paranoid lot. But their actions should still have a rationale and the ending particularly does not make any sense.
Down Terrace Quotes
There are no approved quotes yet for this movie.