Down The Road Again
(2011)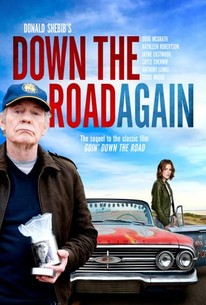 AUDIENCE SCORE
Critic Consensus: No consensus yet.
Down The Road Again Photos
Movie Info
In 1970, Joey and Pete left Nova Scotia to try life in the big city in the Canadian Classic Goin' Down the Road. Now, some forty years later, Joey has died, and Pete must fulfill his last wish: to take his ashes back to Cape Breton Island, as well as a few other tasks along the way. Armed with a series of letters and an envelope full of money, Pete heads back home. DOWN THE ROAD AGAIN is a touching, comedic and romantic tale of second chances at life and love.
Critic Reviews for Down The Road Again
All Critics (3) | Top Critics (1) | Fresh (2) | Rotten (1)
It's a worthy companion piece to its raw and jagged partner, maybe a bit old-fashioned, maybe a bit too sweet, but imbued with wisdom, heart and good intentions.
Shebib, who would probably be the first to admit that Goin' Down the Road is a hard act to follow, tells the story in Down the Road Again with energy and humour and he gets terrific performances from his cast.
Returning to the characters he created in 1970, Shebib has made a wheezy, flat and unnecessary follow-up that tries in the clumsiest way imaginable to slap a happy ending on the first film's downbeat story.
Audience Reviews for Down The Road Again
Seldom have I so wanted a sequel to succeed.I had been deeply moved by the gritty original, Going Down the Road, which I saw at a time when the Canadian Maritimes provinces were bleeding good young folks for whom no jobs were left. Different as my life was from Pete and Joey's, I well understood what it's like to have to leave the Atlantic for what the late Stan Rogers once singingly dubbed, "the scummy lakes and the City of Toronto". The initial excitement and the inevitable disillusionment when down the road still doesn't make for the good life was brilliantly captured. So this one, focusing in on the reverse journey for Pete and the now deceased Joey's wilding daughter sounded like a good gig. And it was until they reached Cape Breton and the schmaltz starting dripping all over the plot. In the process, for reasons I cannot imagine, film-maker Shebib conveniently invented a backstory for when and why Pete and Joey had left, that is utterly inconsistent with the so-much better original. Who can forget Pete's boyish grin as he sat high in the old convertible driving towards Toronto? Yet, now, Pete's departure is linked to a wrong side of the tracks love affair which had driven the lad down the road broken-hearted. This indigestible change sets up for the schmaltz that the film descends into with coincidences and reunions that even Dickens at his worst would blush at. I did squeeze out a secodn star because you can't not love seeing Doug McGrath again, playing well, in spite of the bad plotting, the what you see is what you get Pete, 40 years on. I wish more movies would make this sequels with decades of separation. I'd like to see ET come back into the life of grown up Elliot (Henry Thomas) and lots of other such... it's just they gotta do it better than Shebib did in this disappointing movie.
Norman Dale
½
The sequel to Don Shebib's Canadian landmark, Goin' Down the Road... thirty years later! Such an audacious project that I had to watch it, and I'm glad I did. As with the original, you don't quite get behind the characters right away, but about a third of the way through, you realize that you're rooting for them. This time around, the story centres around Joey's death, and his instructions to Pete regarding how he'd like his remains disposed of. The trip happens in reverse this time, from the RoC - that means "Rest-of-Canada," friends from other countries - to the maritimes, and Pete's estranged daughter, a sparkplug played spunkily by Kathleen Robertson, tags along for the ride. It's not without its corny moments, but in a way, the film's a courageous one, not afraid to be sentimental so long as it rings true. It worked for me, it might not for you, but as a pair, Shebib's Pete and Joey movies are signposts in Canadian film, and you should probably see them once.
Daniel Perry
Super Reviewer
Down The Road Again Quotes
There are no approved quotes yet for this movie.
Discussion Forum
Discuss Down The Road Again on our Movie forum!