Eighth Grade
(2018)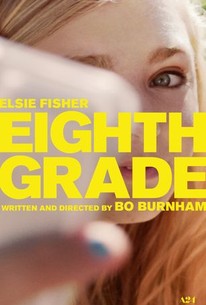 TOMATOMETER
AUDIENCE SCORE
Critic Consensus: Eighth Grade takes a look at its titular time period that offers a rare and resounding ring of truth while heralding breakthroughs for writer-director Bo Burnham and captivating star Elsie Fisher.
Movie Info
Thirteen-year-old Kayla endures the tidal wave of contemporary suburban adolescence as she makes her way through the last week of middle school--the end of her thus far disastrous eighth grade year before she begins high school.
News & Interviews for Eighth Grade
Critic Reviews for Eighth Grade
Audience Reviews for Eighth Grade
13 GOING ON 14 - My Review of EIGHTH GRADE (5 Stars) When WELCOME TO THE DOLLHOUSE came out in 1996, I loved it, but my friend Vicki called it "hateful and heinous". Her words stuck with me all these years, despite my continued appreciation of that film. How could she not see what I saw? Well, it took 22 years, but I think I understand now after seeing EIGHTH GRADE, a kinder, gentler, but still edgy cousin to Todd Solondz's film. Written and directed by first timer Bo Burnham, who's only 14 years out of eighth grade himself, the film feels simple yet is one of the most gorgeously acted, emotionally connected films of 2018. Starring Elsie Fisher (remember that name) as Kayla, we stay close and tight on this withdrawn, pimply-faced sweetheart who aches to connect with others as she makes her way through her last year of Junior High. For much of the film, it's a losing battle as she gets ignored by almost everyone despite her attempts to fashion herself into a YOUTUBE star complete with the adorable constant sign-off, "Gucci!". Living with her single father Mark (Josh Hamilton), a Dad also desperate to make human connections, she prefers to ignore him and bury her face in her phone. Like many teenagers, she crushes hard on the wrong person, played to disaffected perfection by Luke Parel, who wins the "Best Eyes" prize in school, but a real turd lies beneath his blue peepers. She also tries to make friends with the cool girls, but they just can't be bothered. Every moment of this film rings true, with Burnham making sure to favor real reactions instead of the hyped-up ones we're used to seeing in the genre. The YOUTUBE clips cleverly serve as our narration as Kayla imparts life lessons which she thinks she's practicing but more often fails miserably. Kayla's journey of self-awareness is a joy to behold, watching her slowly making baby steps towards self love. Burnham uses a wonderful motif throughout of her shattered iPhone screen, which she tosses across the room in a moment of panic. Its ever-growing cracks represent the character's downward slide beautifully. Same goes for the gloriously in-your-face electronic score by Anna Meredith. It's big, bold and loud, perfectly reflecting how every little moment is huge to a teen. Most indies go the acoustic folk route, but EIGHTH GRADE is special. It truly understands its main character and I loved going along for the ride. Burnham also works wonders with a Time Capsule motif, which pays huge emotional dividends at the end. I was reminded of those big crying moments on RUPAUL'S DRAG RACE when Ru holds up each Queen's childhood photo and asks them to give advice to their younger self. In EIGHTH GRADE'S case, the payoff had me crying harder than a hundred Eurekas and Sasha Velours combined. EIGHTH GRADE looks and feels real, from its unassuming cinematography by Andrew Wehde to its production design by Sam Lisenco. Everything is in service of its main character, never calling attention to itself. It's how film storytelling should be. My old friend Dan Fisher was the Prop Master on the film, and just one look inside Kayla's Time Capsule will convince you of the love and care spent on getting inside Kayla's head. At the screening I attended, Burnham told us that Kayla's dialogue was written down to every "um" and "like". It's an impressive feat considering how true everything feels. And just when everything feels hopeless for our little heroine, in comes a mentor, beautifully realized by Emily Robinson (TRANSPARENT), who offers a perspective-changing experience for Kayla. It's one of the most lovely sequences I've seen in a film in ages, acting as the perfect exhale to the prior torment she suffers. Speaking of which, you won't soon forget an ominous scene in the back seat of a car, where the emotional violence of it feels harsher and more sustaining than anything physical. This scene was reminiscent of one from THE EDGE OF SEVENTEEN, although Hailee Steinfeld's character could articulate her feelings better than the younger Kayla. While Elsie Fisher delivers an unforgettable performance, I can't say enough about Josh Hamilton, an actor who despite a long career, has never really registered for me, until now. It's a difficult, rich role, allowing him to be the "Dad-joking" parent while also delivering harsh truths and in one sensational scene, pouring out his deep love for his daughter. Another three hankie moment. This instant classic definitely delivers on all counts. It even gives the audience that revenge fantasy scene in which Kayla gets to finally shout down her enemies, but it does so with all of the awkward, stymied force of a real 13 year old. It's charming, heartwarming without being maudlin, funny as hell, and incredibly empowering for all. I think my friend Vicki will agree with me on this one, finally!!
Glenn Gaylord
Super Reviewer
As adulthood progresses, it's easy to forget the minutiae of junior high school and with good reason. Those formative years seemed so boring yet anxiety ridden. Basic social interactions were nerve-wracking, the future was dauntingly imminent, and there was no release from the stress of the unknown except through reverting to childlike behavior - the one thing you should never do when you're supposed to be "growing up". When you "become an adult", you know what to do most of the time, or at least what you're supposed to do. It's easy to look back on those years you lived and disassociate as if you were somehow incomplete or different then, but it's a lie to help you forget how difficult it all was. Every kid in this film lives in and around their phones and the internet. Eighth Grade is almost a horror film in this regard. All of those hormones, insecurities, and first encounters with the outside world must seem hyper-real or unreal as kids essentially have a spoiler alert for everything from sex to death. Of course, this leads to some of the films most comical moments as well as some of its most harrowing. If it's effective at anything, you can't help but inhabit Elsie Fisher's character Kayla in all of her emotional shades and feel that old familiar sting. The cast are all completely endearing, and the setting feels lived in. If you've been looking for the next film to capture the naivete and discovery of childhood after Room or The Florida Project, here's your next fix. This is a well made film firmly grounded in the now. But in another way, it's a horror film in the same aspect that Ingrid Goes West is frightening. The implication left by these movies is that our culture and how we perceive and interact with each other is at a precipice in human history, and there's no going back bar some even more catastrophic event like an EMP. Director Bo Burnham was in on the ground floor of Youtube viral culture. He has attempted to make a film about how sad and scary, yet innocent and pure (his words not mine) the internet can be as a venue to everyone. I think he's high on his own supply, riding a wave of popularity. He's one of the lucky ones. For as feel good as this movie can be, and there are some deeply affecting moments in here, little Kayla is living in a privileged bubble. For as much as she's learned and even taught herself, she has no clue what she's in for. For as emotionally helpful Instagram and Youtube can be for her, they are not going to prepare her for when reality hits.
K Nife Churchkey
Super Reviewer
Eighth Grade Quotes
There are no approved quotes yet for this movie.