Executive Action
(1973)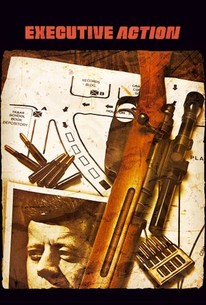 Executive Action Videos
Executive Action Photos
Movie Info
If you think that Oliver Stone invented the "political paranoia" movie, take a glance at Executive Action sometime. Based on Mark Lane's Rush to Judgment, the conspiracy theorist's bible, Executive Action perpetuates the popular urban legend that John F. Kennedy was assassinated at the behest of a right-wing cartel with military and industrial interests. The film further hypothesizes that Lee Harvey Oswald not only didn't pull the trigger, but was also set up as a disposable dupe (this notion wasn't even new in 1973). Burt Lancaster, Robert Ryan and Will Geer play the sinister conspirators. In the film's coda, still photos of 18 witnesses to the assassination are shown, while the accompanying text informs us that all of these people had died between 1963 and 1973. We are further told that the odds against this coincidence are one in a trillion. When Oliver Stone's thematically similar JFK came out in 1991, viewers with long memories were quick to notice the eerie similarities between the Stone film and Executive Action -- right down to choice of camera angles. Hmmm....a conspiracy, perhaps?
Rating:
PG
Genre:
, ,
Directed By:
Written By:
In Theaters:
On DVD:
Runtime:
Studio:
WARNER BROTHERS PICTURES
Cast
Critic Reviews for Executive Action
Audience Reviews for Executive Action
Watching this movie will certainly leave you believing that Burt Lancaster and Robert Ryan had Kennedy killed. Unsettling movie connects the dots among all the strange inconsistencies of November 22, 1963 into a broad conspiracy movie that certainly was capitalizing on the Watergate paranoia of the time. The film's sparse docu-drama style lends everything a very believable quality as well as the intricate inter cutting of actual footage from Kennedy's trip. Ryan and Lancaster add weight to roles that are really one dimensional and today are seen almost as caricature, but in their hands there is still some honest menace. The final reveal of the movie regarding the deaths of the witnesses leaves the viewer with an effectively ominous final chord to go out on.
Humberto Ferre
Captivating, fast paced...tends to be more a documentary than a drama, with lots of real news footage thrown into the movie. Still, very interesting and a good education of events as they happened. Suggest everyone watch this if they found Oliver Stone's film interesting. PLEASE see this trailer: http://www.youtube.com/watch?v=-SPcJ7-GMsU Executive Action is a 1973 film about the assassination of U.S. President John F. Kennedy. The film opened to a storm of controversy over the depiction of the assassination: in some places in the U.S., the film ran only 1 to 2 weeks in movie theaters or got pulled from them altogether. Odd that the film was released just 14 days before the anniversary of the president's assasination. [img]https://encrypted-tbn2.gstatic.com/images?q=tbn:ANd9GcSR9YnyKnOiKZepGpQ5TSDSUVBvkKXhUD7dI_6qt7MeL_aLsN7x[/img] SEE the entire film here: http://www.youtube.com/watch?v=BbF5him-EF8 [img]http://upload.wikimedia.org/wikipedia/en/thumb/e/e0/Executive_Action1973.jpg/220px-Executive_Action1973.jpg[/img] REVIEWS by us: 90% I thought this was a very good movie. 80% I thought the film overall was rather well done, and fit in with the time period. I recently bought this movie, just watched it. I grew up in Dallas, and was in high school the day Kennedy was killed. I well remember the day. [img]http://bad.eserver.org/issues/2013/85/upcoming/85/85-graphics/execaction1.jpg[/img] Robert Ryan, left...Lancaster, right NOTES: 1 Executive Action is one of at least four American films to present a dramatization portraying the Kennedy assassination as a conspiracy (the others being Oliver Stone's 1991 movie JFK, the 1984 William Tannen film Flashpoint, starring Kris Kristofferson and Treat Williams. and Neil Burger's 2002 mockumentary Interview with the Assassin). 2 Despite many similarities of the plotline to JFK, Executive Action presents a far more direct and unemotional account of the Kennedy assassination than Stone's film. 3 This film was also the last movie for Ryan, who died of cancer four months before the film's release. 4 Actor Donald Sutherland has been credited as having the idea for the film and for hiring Freed and Lane to write the screenplay. Sutherland planned to act in and produce Executive Action, however, he abandoned the project and took a role in another film after failing to obtain financing for the film. [img]http://bad.eserver.org/issues/2013/85/upcoming/85/85-graphics/execaction2.jpg[/img] Directed by David Miller Produced by Edward Lewis Written by Dalton Trumbo Donald Freed (story) Mark Lane (story) [img]http://www.lefrelonvert.com/wp-content/uploads/2011/07/Executive_Action_1.jpg[/img] Starring Burt Lancaster Robert Ryan Music by Randy Edelman Cinematography Robert Steadman Editing by George Grenville Distributed by National General Pictures Release dates November 7, 1973 Running time 91 min. Country USA Language English Budget under $1 million [img]https://encrypted-tbn0.gstatic.com/images?q=tbn:ANd9GcQf9eAZOgtiAFM9Sw-64MJN6Tkt7q3RyZk14eyD27Zt6_tcSJPeiQ[/img]
monsieur rick
A movie that blends actual news footage of the Kennedy assassination with scripted film. May be the earliest movie I have seen so intertwine the two. The script follows the (for the most part plausible) conspiracy theory that JFK's assassination was planned by a group of ultra-rich right-wing industrialists. I think much of what caused JFK's death did have to do with his desire to pull out of VietNam and that Oswald was obviously a patsy. But Kennedy had upset the Insiders, and the Insiders only use the right-wing/left-wing dichotomy in a strategy of divide and conquer on the rest of us in order to consolidate their power. If the Insiders succeeded in 1963, just imagine how much better they are at it today. (They're still pretty sloppy - Gordon Kahl, Ruby Ridge, Waco, Vince Foster, Oklahoma City/Ken Trentadue, etc.) To note, this movie prophetically forecasts the population of the third world in 2000 at 7 billion, "Most of them Yellow, Brown or Black. All hungry and all determined to love; they'll swarm out of their breeding grounds into Europe and America."
D M
Discussion Forum
Discuss Executive Action on our Movie forum!
News & Features