Farinelli
(1994)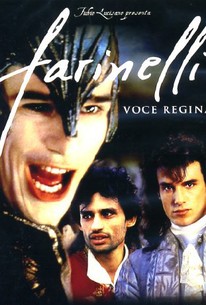 Movie Info
This lavishly produced European costume melodrama chronicles the life of Farinelli the 18th century's most renowned castrati singer whose remarkable voice covered 3 1/2 octaves. He could also sing a continuous series of 250 notes and hold a note for a full 60 seconds. The songs he sang were so complex that no one has been able to sing them since. To recreate his voice, the voices of counter-tenor Derek Lee Ragin and soprano Ewa Mallas Godlewska were combined and digitally enhanced. When Farinelli was just a choirboy, he witnessed the suicide of a fellow member who warned him not to let the masters castrate him. But Farinelli, then Carlo Broschi, had no choice. His father told him he could only sing the songs of his brother Ricardo, a composer noted for his complex and flamboyant songs. The brothers are exceptionally close and even share sexual experiences with women. But when they encountered Handel obstacles arose. In London two theaters were at war. One theater belonged to Handel, the other to his former voice teacher. Farinelli sings at the latter and is quite successful, but he then decides to earn Handel's respect and sing less florid music. He breaks from his brother, sings Handel's songs and becomes recognized as a true artist.
Rating:
R
Genre:
, , ,
Directed By:
Written By:
In Theaters:
On DVD:
Runtime:
Studio:
Sony Pictures Home Entertainment
Critic Reviews for Farinelli
Audience Reviews for Farinelli
½
This movie, based in an era gone by poses an interesting account of the life of Farinelli, yet I can't stop myself from feeling like it is a giant ripoff of Amadeus! Both of the brothers are played to be gigantic fops. I could almost hear that stupid tittering laugh from Amadeus. The inferior brother like the much better predecessor is play to be the villain who only uses his brother's horribly mutilated "gift" as a means to an end when it was in reality, his father. I can't stand the histrionics presented in this film. If you're a fan of Opera or pretty pictures go ahead and watch this film, but otherwise just watch Amadeus, at least that is funny!
aodhan young
½
Beautiful, lush, sumptuous...all words that can be used to describe various aspects of this film. My only issue would be that the love between Farinelli and the woman who would later be his wife was barely explored at all - they go from arguing and ignoring each other to later living with each other in Spain, she being ready to have 'his' child. I could've done with a bit more of his childhood as well.
The colourful and uninhibited life of "il castrato" Farinelli and his brother Riccardo Broschi, two men who shared their music and their women. An operatic biopic with impressive production values and a dreamy score. Not as big as Milos Forman's Amadeus, but still, a picture with immense beauty and pleasant erotism.
Pierluigi Puccini
Super Reviewer