Fifty Shades Darker
(2017)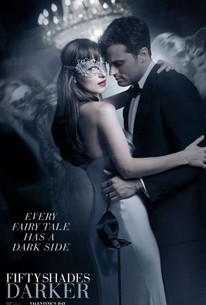 TOMATOMETER
AUDIENCE SCORE
Critic Consensus: Lacking enough chemistry, heat, or narrative friction to satisfy, the limp Fifty Shades Darker wants to be kinky but only serves as its own form of punishment.
Fifty Shades Darker Videos
Fifty Shades Darker Photos
Movie Info
Anastasia has broken off her relationship with the troubled Christian to pursue a new career in a Seattle publishing house.
News & Interviews for Fifty Shades Darker
Critic Reviews for Fifty Shades Darker
Audience Reviews for Fifty Shades Darker
Since I didn't want to risk having my cucumber confiscated while viewing this at the theater, I had to wait for an Asian HD bootleg to watch this sequel to the 2015 smash success "Fifty Shades of Grey". The bootleg I watched had all of the sex scenes removed, so I fortunately skipped all of the pap and got straight to the smear. This worked out perfectly for two reasons. For one, it's kind of embarrassing to eat a whole cucumber by myself during an erotic thriller. Second, the sex scenes might be too tittilating. This is uncomfortable as I am a devout Mormon and refuse to commit sexual relations until I am faithfully wed to my second and third wives. Speaking of Mormons, Stephanie Meyer, the author of the "Twilight" saga, inspired E.L. James to adapt her erotic "Twilight" fan fiction (titled "Master of the Universe") into what we now know as the "Fifty Shades" trilogy. Needless to say, fans of the "Twilight" books and movies will thoroughly enjoy the romance and nuanced acting common to both film franchises. Not having seen the preceding film, I was hoping that I could just infer what happened before the events in this movie. I did. Christian Grey is a sexy businessman who grew up in a broken home with a crack whore mother. He escaped his humble beginnings to become an illuminati-tier billionaire who enlists young women to sign BDSM contracts so he can violently (and romantically) act out his childhood trauma on them - with a heart of gold. Anastasia Steele is a beautiful girl-next-door who wants to make a career in the publishing industry on her own terms (presumably to distribute her "Twilight" fan fiction). After a rough patch of enduring Christian's abuse and breaking up, she immediately gets back together with him after he buys the company she works for and forces his way back into her heart because he is sorry about the sexual and mental abuse. I assume they have lots of steamy sexual sex because there is 20 minutes of footage missing from my copy. But their love is imperiled by everyone wanting to assault Anastasia, and several of Christian's former victims are stalking them. All in all, "Fifty Shades Darker" is one of the best comedies I've seen this year, with hints of "The Room", "Showgirls", and, of course, "Twilight" keeping you on your toes, if not rolling on the floor.
K Nife Churchkey
Super Reviewer
The best thing I can say about Fifty Shades Darker is that it is one of the best comedies of 2017. Charlie Hunnam, is probably somewhere spiking the football that he backed out of this franchise before it ruined his career. There aren't enough buzzwords to describe how bad this is, you simply have to see it to believe it. If you aren't going to laugh at this film or get some Amazon recommendations for butt plugs this Valentine's Day, don't get suckered into seeing this film. Just watch porn and maintain the ounce of dignity you have left.
Jacob Smith
Super Reviewer
James Foley's Fifty Shades Darker may be a little darker, but still a bland grey sums it up. For nearly 2 hours, the film delivers stuff, then sex, more stuff, then more sex, etc. The story is slow and tiresome, leaving very little to show other than the aforementioned sex scenes. The highlight is obviously the erotic segments, which gives this film its R-rating. There are a good share of them, but nothing that pushes to an NC-17 rating, which is where this picture may begin to shine, just a little. Dakota Johnson and Jamie Dornan are definitely easy on the eyes, but their performances don't help this picture in anyway. The characters may be written this way, and if so, it doesn't work on screen as it would in a book. Fifty Shades Darker does have a kinkiness to it; just not enough to strip down and stand out.
Fifty Shades Darker Quotes
There are no approved quotes yet for this movie.
Discussion Forum
Discuss Fifty Shades Darker on our Movie forum!