Fifty Shades of Black
(2016)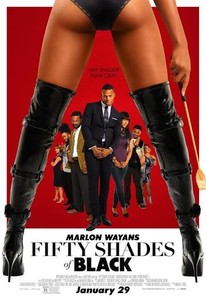 TOMATOMETER
AUDIENCE SCORE
Critic Consensus: Wildly erratic even for a spoof movie, Fifty Shades of Black bears the unfortunate distinction of offering fewer laughs than the unintentionally funny film it's trying to lampoon.
Fifty Shades of Black Videos
Fifty Shades of Black Photos
Movie Info
This spoof from the Wayans Brothers parodies the ultra-popular novel/film series Fifty Shades of Grey.
News & Interviews for Fifty Shades of Black
Critic Reviews for Fifty Shades of Black
Audience Reviews for Fifty Shades of Black
The worst comedy from Jack and Jill, badly acted, poorly directed, is a complete disaster movie, is completely atrocious. Do not know who the hell told Marlon Wayans that this was funny, probably some one who hates him. No it hurts more pay to see this movie or wasted time to see this atrocity.
Fernando Martínez Cantú
Super Reviewer
Why did I put myself through this? Fifty Shades of Black is another spoof film from Marlon Wayans (who used to be funny...I think?), this time spoofing Fifty Shades of Grey. I can safely say I did not laugh once, it was like I was dead inside whilst watching this. The gags were horrendous and the majority of them were cringeworthy. Wayans is charismatic, but it's not enough to keep me or anyone else entertained.
Luke Andrews
Super Reviewer
With jokes and gags that slap you across the face harder than being on the submissive part of an S&M session, this Fifty Shades parody Black-balls spoof films back into virgin territory. In the bland tradition of Date Movie, Superhero Movie, and Meet the Spartans comes Fifty Shades of Black, a one (and a half) note send up of the one-note film spawned from E.L. James' one-note novels. Granted, taking aim at bottom-feeders allows for a ripe proving ground of comedy because these low denominators are unintentionally funny to begin with. Unfortunately, Black aims just as low as it intended victim, trying to wring easy laughs out of material that accidentally ended up to be funny in the source material. If some pointed jokes about race and sex didn't at least hit just inside the dartboard, Fifty Shades of Black wouldn't even rank one (and a half) star. In regards to skewing pop culture, Black is - simply put - whack. In this R-rated spoof, an inexperienced college student meets a wealthy businessman whose sexual practices put a strain on their relationship. Not much was expected of the Wayans's parodic oeuvre, mind you. With Dance Flick and Haunted House having already grabbed very low hanging fruit (think: strip mining topsoil) off of other genres rather than play it straight with clever dialogue a la Airplane! or The Naked Gun, this gratuitous exercise follows in very much the same small footsteps. The leads make the most out of cheap shots but some cameos from Fred Willard, Jane Seymour, and - wait for it - Florence Henderson make for the funniest exchanges. Bottom line: Meh in Black
Fifty Shades of Black Quotes
There are no approved quotes yet for this movie.
Discussion Forum
Discuss Fifty Shades of Black on our Movie forum!