Fish Story (Fisshu sutori)
(2013)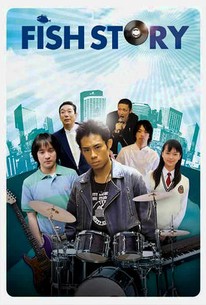 Fish Story (Fisshu sutori) Photos
Movie Info
In 1975, an unpopular Japanese punk band called "Gekirin" (Wrath) starts work on their third album. Unfortunately the band is a little ahead of its time; punk won't be marketable until the Sex Pistols debut in the UK the following year. Due to nonexistent sales, their record company decides to drop them and they break up soon after recording their final song: "Fish Story". In 2012 a huge comet can be seen in the sky on a path to destroy Earth. The U.S. has failed in their attempt to blow it up and with only five hours left before impact, all major city streets are completely abandoned. That is, except for one record store that continues business as usual. Within the store, "Fish Story" can be heard playing on an old turntable.
Critic Reviews for Fish Story (Fisshu sutori)
Audience Reviews for Fish Story (Fisshu sutori)
Excellent! Got to admit, my attention started to waver in the last part as I just couldn't figure out what all the stories had to do with each other. The song is pretty cool and I managed to stick it out to the end. Glad I did. Wow, did not see all those tie ins coming right at the end when I thought the movie was actually over. I loved the story of the book being a scam too, yet all that impact. Awesome.
Nicki Marie
Super Reviewer
Pretty goddamn great movie. It's ambitious and full of energy. It also does a great job at tying every story together by this song and the consequences it inspires, however coincidental. Everything, and it may not seem like this for most of it, serves a purpose in the end. The skill with which every story is brought together in a way that makes sense is very impressive. Not a lot of movies can do this without it feeling contrived. It felt natural in this movie. Especially tying them all together with this song (or the events that LED to the creation of the song) that wasn't even successful and led to the break-up of the band. Hell, to me, the end alone adds about half a star to the movie, it's cleverly done. The song is also really good and catchy. It would almost HAVE to be since the movie relies completely around it and it's played a LOT throughout the movie, yet it never got old. I wasn't bothered by hearing this song repeatedly. Especially even more so seeing how the end played out. Overall I thought this was a really great movie and I'd definitely recommend it.
Jesse Ortega
Super Reviewer
Great Japanese film about a punk rock song saving the world! When punk band Gekirin(Wrath, in English) are on their last legs as a band they record one final song called Fish Story. Its 1975, before The Sex Pistols put out their album and nobody had heard anything like it. Not only that, as years go by there are rumours about hidden messages being heard in the song but eventually this song will start events that lead to the world being saved in 2012! Sounds mad? Well, this is Japan and what Asian cinema seems to do so well is take any story, crazy or not and make it entertaining, fun and sometimes realistic to a point. Fish Story is well made, written, acted, clever with a good ending and the song itself is pretty cool to. And hey, you never know, a song could well save the world one day!
Fish Story (Fisshu sutori) Quotes
There are no approved quotes yet for this movie.