Duck, You Sucker (A Fistful of Dynamite) (Giù la testa)
(1972)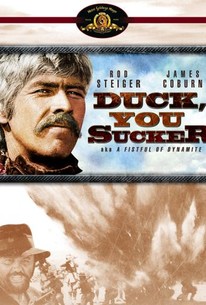 Duck, You Sucker (A Fistful of Dynamite) (Giù la testa) Photos
Movie Info
Originally titled Giù la Testa, Duck, You Sucker! is a Mexican-revolution yarn, filmed in Italy by spaghetti Western maven Sergio Leone. James Coburn is top-billed as John H. Mallory, an Irish soldier of fortune with a penchant for explosives. Rod Steiger plays Juan Miranda, another mercenary who wants to utilize Mallory's specialty to blast into a bank. Despite his avaricious intentions, Miranda becomes a hero when the hole he blows in the bank wall frees dozens of political prisoners. Duck, You Sucker originally ran 150 minutes, with U.S. release prints heavily trimmed. Taking into consideration the previous "Man With No Name" films masterminded by Leone, the distributors of Duck, You Sucker! reissued the film as A Fistful of Dynamite.
News & Interviews for Duck, You Sucker (A Fistful of Dynamite) (Giù la testa)
Critic Reviews for Duck, You Sucker (A Fistful of Dynamite) (Giù la testa)
Audience Reviews for Duck, You Sucker (A Fistful of Dynamite) (Giù la testa)
A minor classic that sadly pales in comparison with those other superior films made by Leone, but still this is a great Western about friendship in a political revolution, with some mesmerizing performances and an enchanting melancholy score by Ennio Morricone.
Carlos Magalhães
Super Reviewer
This great film gets harsh judgement after the masterpieces that Leone directed before it., but put it up against any other Italian Western or any other Western for that matter and it's still a classic. James Coburn and Rod Steiger are great and this film features one of Morricone's greatest scores.
Graham Jones
Super Reviewer
Another solid Leone film. Thematically it feels as though it were a companion piece to The Good, The Bad, and The Ugly. While the characters may not be as memorable as the ones that Eastwood, Wallach, and Cleef created, Coburn and Stieger really hold their own. (In fact, Steiger's performance is so solid that I am almost convinced that DePalma later lifted many of Stieger's mannerisms for his remake of Scarface.) Although it isn't as visually enthralling as TGTBTU, Leone still crafts some scenes that make the viewer wonder how he dreamed up such a sequence. Being Leone's last Western, fans can at least rejoice that he ended on a good note.
Duck, You Sucker (A Fistful of Dynamite) (Giù la testa) Quotes
| | |
| --- | --- |
| Juan Miranda: | I know what I am talking about when I am talking about the revolutions. The people who read the books go to the people who can't read the books, the poor people, and say, "We have to have a change." So, the poor people make the change, ah? And then, the people who read the books, they all sit around the big polished tables, and they talk and talk and talk and eat and eat and eat, eh? But what has happened to the poor people? They're dead! That's your revolution. Shhh... So, please, don't tell me about revolutions! And what happens afterwards? The same fucking thing starts all over again! |
| Juan Miranda: | I know what I am talking about when I am talking about the revolutions. The people who read the books go to the people who can't read the books, the poor people, and say, 'We have to have a change.' So, the poor people make the change, ah? And then, the people who read the books, they all sit around the big polished tables, and they talk and talk and talk and eat and eat and eat, eh? But what has happened to the poor people? They're dead! That's your revolution. Shhh... So, please, don't tell me about revolutions! And what happens afterwards? The same fucking thing starts all over again! |
| | |
| --- | --- |
| John H. "Sean" Mallory: | Duck,You Suckers! |
| John H. "Sean" Mallory: | Duck, you suckers! |