For a Lost Soldier
(1993)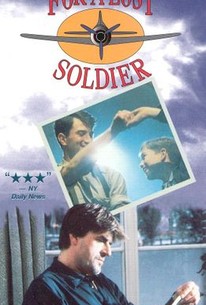 AUDIENCE SCORE
Critic Consensus: No consensus yet.
For a Lost Soldier Photos
Movie Info
For a Lost Soldier was originally released in the Netherlands as Voor een veloran soldaat. Using a flashback framework, the film deals with a gay "coming of age". Forty years after the fact, choreographer Jeroen Krabbe recalls a wartime romance. During the Allied liberation of Holland, the young Krabbe (played as a youth by Marten Smit) entered into a tender relationship with a Canadian soldier (Andrew Kelley). Back to the present, Krabbe attempts to incorporate his experiences in his latest ballet work, a celebration of the Liberation. This delicately handled tale was written by its director, Roeland Kerbosh.
Audience Reviews for For a Lost Soldier
I agree with most I thought it was a great movie and really resonated with me my first sexual relationship was a month after turning 13 with a 24 year old now I'm 21 an I'm still with him. I'm glad I didn't have to go through what the kid did of him leaving I would have been really upset. Well only reason I put some personal info out there is cus some of the comments saying its a pedo movie and sick i didn't get that and from personal experience I don't think it was like with me and my partner I'm sure if he was a pedophile he would have left me after j.r. High LOL well that's my opinion great movie and chemistry between the main actors.
Chris Tyler
I heard about this on Netflix... not even wanting to watch. Will speak my peace... it does not matter which way you try to worm around it. This is a gay pedo love story... and that is just sick... what is next? A girl and a frog.. yet the frog doesnt turn into anyone... *gasp*!! People really need to figure out what love really is. Ever heard of platonic? Brotherly? Family? Seems like everyone on this planet now thinks if there his a sexual organ present... then sexual intercourse must be performed immidiately. No offense, but this whole thing isnt "cool" wierd, or beautiful... its sick and twisted. Grow up you pedos, please!!!! Im sorry I can actually love someone my own age of the different human sex, thats how it is supposed to be, if you think you have to go around that because it is a "rule", get over it, stop whining you sick twisted freaks!!!
Cody Miller
It's very slow until Jeroen meets Walt. I was pretty bored at first, but once they meet it turns into a good movie. What I like most about it is the fact that it's not about anything, ie it's not a 'gay' movie and it's not a 'pedophile' movie. It's just two characters who (think?) they're in love and their short time together. What I also like is that it was very natural. The chemistry wasn't forced and it wasn't awkward at all, which is always good.
Lauren Donis
Super Reviewer
For a Lost Soldier Quotes
There are no approved quotes yet for this movie.
Discussion Forum
Discuss For a Lost Soldier on our Movie forum!