For All Mankind
(1989)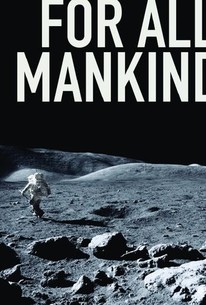 Movie Info
This documentary utilizes the official film footage taken by NASA and the astronauts during various Apollo missions. The footage was blown up to 35mm without a loss of visual quality. Director Al Reinert has done an excellent job of assembling a coherent documentary from all the available material. The narration includes the actual voices and words of the astronauts themselves. One reviewer called this "the most expensive film ever made," referring to the many billions of dollars that went into the moon landing program. This footage was extensively mined by Ron Howard for his (Apollo 13, so it may seem familiar. For All Mankind features a score by experimental rock composer Brian Eno.
Critic Reviews for For All Mankind
Audience Reviews for For All Mankind
½
The Apollo missions were one of the most important events of the 20th Century. This is not your typical documentary, and it is a necessary one to watch if you're interested in the Apollo missions. This is a near flawless attempt at telling the complete story of the Moon Landings. I say that this is a different documentary because instead of featuring interviews, it is narrated by the astronauts who participated in the missions. The film is terrific and engaging, but it does leave a lot to be desired, mainly due in part to its short run time. For a subject such as this one, a more in depth documentary should have been made. In other words, a two hour film would have been enough. For All Mankind is nonetheless a worthwhile film to watch and it's quite spectacular in terms of footage and narrated accounts of the astronauts who were there. This is an important documentary and you get to witness a part of history as we revisit this historical mission. Although not perfect, For All Mankind is a near perfect attempt at crafting a documentary on these missions that changed the face of humanity forever. Beautifully shot and narrated, this is an insightful documentary that is only limited by a short run time. I really loved the film, and it is a worthwhile viewing for viewers interested in the missions to the moon. This is nonetheless one of the best documentaries that I have seen and it is a fine document recounting this mission, and it is a delight from start to finish. With beautiful imagery, For All Mankind is a fine and near perfect film that should delight viewers of all ages.
A important historical document. Some of the most amazing images ever shot.
Graham Jones
Super Reviewer
½
Simply put, one of the greatest documentaries on one of the most exciting and interesting topics. Highly Recommended!
Chris Browning
Super Reviewer
For All Mankind Quotes
There are no approved quotes yet for this movie.