Chingoo (Friend) (Chingu)
(2001)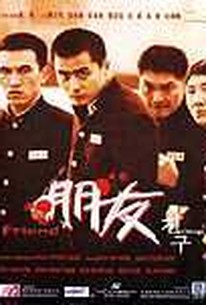 AUDIENCE SCORE
Critic Consensus: No consensus yet.
Movie Info
One of the most popular and well-known Korean films of recent times, starring superstar Dong-gun Jang. Four childhood buddies, two go off to college while the other two become rival town gangsters.
Critic Reviews for Chingoo (Friend) (Chingu)
There are no critic reviews yet for Chingoo (Friend) (Chingu). Keep checking Rotten Tomatoes for updates!
Audience Reviews for Chingoo (Friend) (Chingu)
½
I think this definitely has the potential for a higher rating, but I did get a little lost somewhere in the middle and is definitely a film that would benefit from multiple viewings. Enjoyed the characters and of course the friendship from young, watching them grow, it did get a little exciting far too late in my opinion, but was a well made film, enjoyable Gangster flick!
Lady D'arbanville
Super Reviewer
½
Spanning a period of around 20 years, Friend follows 4 ... well ... friends as they grow up and each choose their paths in life. It is a nice idea that is reminiscent of Stand By Me. In the beginning anyway.
The younger years of the 4 friends are the more entertaining parts of the film and it is probably because of the mischievousness of the characters at a young age. The introduction of the characters with the freeze frames is also a nice touch. Slowly by slowly the story eventually becomes more and more bland. By the second half of the film the main focus is only on 2 of the friends, while the other 2 just appear from time to time. Its not that the story is bad, it just needs to be a little more eventful.
The violence is somewhat bloody since the 2 characters that the film focuses on in the latter parts deals with Korean gangs. The language is also entertaining, since it gets highly offensive at times.
The acting is one of the stronger elements of this picture. Dong-Kun Jang, who is no stranger to big Korean films, and Oh-seong Yu put on good performances. Tae-hwa Seo and Un-taek Jeong are good early, but slowly fade out as the film progresses. Bo-kyeong Kim is the lowly decent sized female character and she lacks the airtime to be anything really important.
"Friendship" is the key theme with Friend and while this is nothing out of the ordinary, it is a pretty strong film out of Korea. I just think more is needed to make this a more interesting movie.
One of the most succesful films from Korea is this stylish gangster flick that follows a group of four friends over a period of almost three decades as their lives move from boyhood friendship. Two of the boys become members in rival gangs, while the other two pursue more conventional paths. The film goes deeper than most of its' kind in exploring the root of violence, from the sadistic school teacher who beats his children in the classroom to the killings of gang warfare. Gang violence is usually quick, intense and often exquisitely shot. The body count is high, however Kyung-Taek does care to show that when a man is stabbed to death, it is both brutal and intimate. At times feels more of a truly personal film than trying to deliver a message, it's still strong enough to recommend but it could've been a lot more. Worth viewing.
El Hombre Invisible
Super Reviewer
Chingoo (Friend) (Chingu) Quotes
There are no approved quotes yet for this movie.