Fright (I'm Alone and I'm Scared) (Night Legs)
(1971)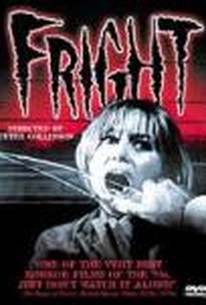 AUDIENCE SCORE
Critic Consensus: No consensus yet.
Movie Info
Young babysitter Amanda arrives at the Lloyd residence to spend the evening looking after their young son. Soon after the Lloyds leave, a series of frightening occurrences in the gloomy old house have Amanda's nerves on edge. The real terror begins, however, when the child's biological father appears after recently escaping from a nearby mental institution.
Critic Reviews for Fright (I'm Alone and I'm Scared) (Night Legs)
All Critics (1) | Fresh (0) | Rotten (1)
an early precursor to the home invasion thriller... Fright is more psychological melodrama than slasher... and by the end is a piece of history soon forgotten.
December 1, 2010
Audience Reviews for Fright (I'm Alone and I'm Scared) (Night Legs)
Fright is a really good if not great thriller suspense horror movie straight from britain, When a babysitter named Amanda arrives to take care of the Lloyds 3 year old son everything seems nice and normal just parents wanting a night on the town but soon after they leave strange noises are heard threw out the house sending the babysitter on edge of course that is till the boys real father shows up recently escaped from the mental hospital thats when the fun starts as she is terrorized non stop untill the police and parents arrive back home. Really worth a watch for those fans that love suspenseful horror
½
Not a horror film, as it seems, but a really well made suspense flick. Now the script isn't amazing, but what Peter Collinson does with it is. It's perfect evidence of how storytelling in films rests so much in the hands of the director. Collinson composes so incredible shots, and utilizes longer shots, camera movement and zooms to great effect. His directing style is really solid and effective and makes this film incredibly watchable, where a lesser director could have made it boring as all hell. He really splits the acts in this film, and shifts moods seemlessly as this film really seems like three movies in one, yet it never ends up being disorienting. Although this is only the second film I've seen of his, and supposedly one of his worst along with the other, Tomorrow Never Comes, he is quickly becoming a favourite of mine. Filmmaking aside, Susan George is nothing to sneeze at and for someone like me, make a film worth watching.
Patrick Dolan
Super Reviewer
Fright (I'm Alone and I'm Scared) (Night Legs) Quotes
There are no approved quotes yet for this movie.